The 9 Rules of Fastpacking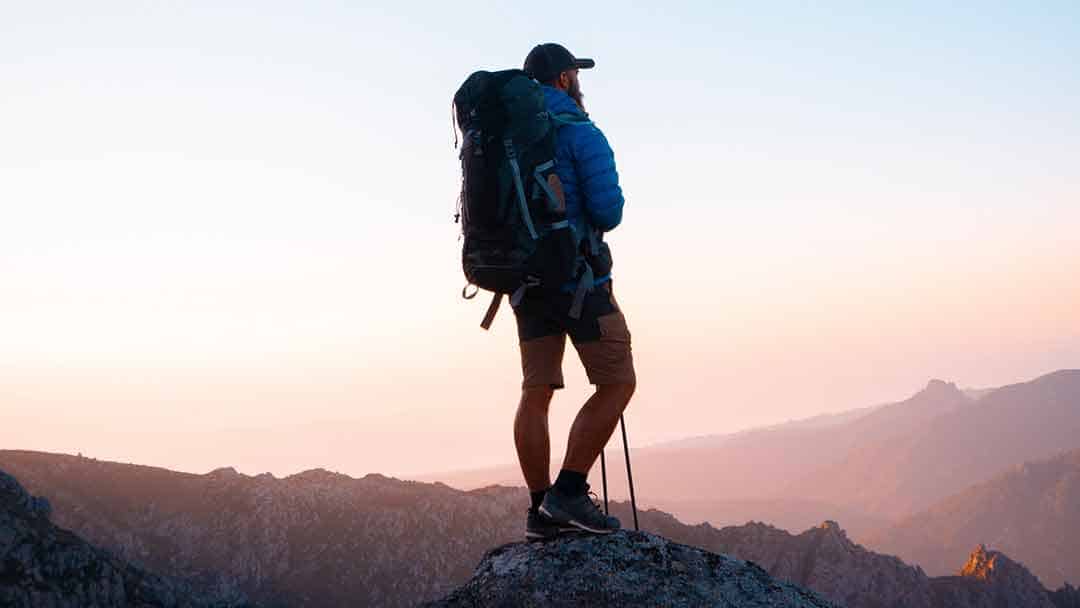 As an Amazon Associate we earn from qualifying purchases made on our website. If you make a purchase through links from this website, we may get a small share of the sale from Amazon and other similar affiliate programs. You can read our complete legal information for more details. By using this site, you agree the information contained here is for informational purposes only. For specific medical questions, consult your doctor. NO information on this site should be used to diagnose, treat, prevent or cure any disease or condition.
Fastpacking is an excellent option to think about for all nature and fitness lovers. Fastpacking allows you to explore more of your route in a shorter amount of time, but it also gives you a chance to sleep beneath the stars and camp for a few nights. 
Regardless if you are a new or experienced fastpacker there are rules to abide by. In this article, I drop the 6 rules you need to know!
Fastpacking is the bomb!
Most people's employment and personal commitments prevent them from taking months off to see the world's wildernesses, so fastpacking helps with this.
Camping is much more fun and satisfying after a day of strenuous jogging. These conditions make for some of the best nights of sleep ever.
The following are some fundamental principles upon which your fastpacking trips should be based:
1. The pack is essential
Your pack is the most vital piece of gear you bring with you. A comfortable, well-fitting, and chafe-free backpack is essential. When running, it should be held close to the body, so the bounce is less.
Currently, the market is flooded with ultralight and lightweight packs in various sizes, all of which are made with fastpacking in mind.
Even a few years ago, if you weren't proficient with a sewing machine and could not make and adapt your own equipment, you would have had few options for this kind of backpack. Thank god things have changed.
This is the fast pack I use: Ultimate Direction Fastpack 30
2. Be safe at night
Your choice of shelter will be influenced by the weather and your level of comfort with being exposed. Usually weighing less than a kilo, tarps, and bivvy bags are the least cumbersome options.
These alternatives are fantastic for reestablishing a deep connection with nature because you are essentially sleeping outside rather than in a tent's contained, artificial atmosphere.
Yet, sometimes a tent is essential. Here are my top 6 tents I use for fastpacking.
Typically, two-person tents weigh around 2kg and provide more shelter and protection than a tarp or bivvy. Sometimes, it can make all the difference in inclement weather to have a dry spot to change or wait out the storm.
I use the Zpack Duplex and Triplex.
3. Stay warm
While a sleeping bag is an absolute must for any outdoor adventure, there are several important considerations to make before making a purchase.
You must understand the limits of a sleeping bag and if you think you will get close to it. Remember that you can always add more layers to your sleeping bag to make it cozier.
A warm down coat, a hat, and some gloves will make a world of difference if the weather is colder than expected.
My lightweight and warm sleeping bag is a Rab Mythic Ultra 180.
4. Mats are for comfort, protection, and warmth
No mat at all, or just a tiny pad that doesn't go much higher than your hip when lying on your side — that's what the minimalist Fastpacker chooses, or so you might think.
In my opinion, a sturdy, lightweight mat is essential for both enjoying a good night's sleep and traveling quickly with minimal equipment.
Furthermore, one should remember that a matt will be required for insulation in cold or snowy conditions. I go into more detail with 8 more camping tips here.
It is also essential to consider the problems that can arise from a puncture. Some inflatable mats can weigh only a few ounces since they are composed of ultralight material. Be careful not to leave any sharp objects out before you sit down or lie down.
I use these two:
I forgot to mention the importance of sleep and that I always bring an Ultralight Pillow on my trips. Here are the top 5 I use on a rotation.
5. Become the route
Think about things like the weather, topography, water availability, solitude, daily mileage, and the types of wildlife you might see along the way.
Before committing to a daily mileage goal, take into account aspects including weather, elevation gain and loss, altitude, technicality, and more.
Some locations require prior bookings for permits and backcountry campsites, while others provide these amenities upon arrival. Sometimes, backcountry permits are given out through a lottery system.
If you plan on visiting a wilderness region, national park, national forest, or any other public place, you should familiarize yourself with the rules that govern your stay. 
Obtain accurate travel route maps, and verify that your emergency and backup exits are clearly marked.
6. Water is key
As space and weight are of paramount importance when fastpacking, water should be one of, if not the major focus of, your adventure.
You'll be sweating quite a bit and need to drink plenty of water, but you shouldn't lug around more than you absolutely need.
Water is heavy. The density of water is constant at 1 kilogram per liter. It's hard to say how much water you will need because it varies so much from person to person and from climate to climate, but when I'm working out hard in the heat, I usually go through about a liter of water an hour.
This is why it's so essential to get hydration nailed in advance.
Water purification tablets or filters should be brought along. These may be needed in various forms depending on where you go. I've used many different brands and always have purification tablets in my bag.
This article will drop all of my suggestions: 6 Best Water Purifiers for Fastpacking.
7. You will be a calorie dump
Dehydrated food is the obvious option, and there are many different kinds to choose from. They are a convenient alternative that only requires water to hydrate, though certain varieties do not require hot or boiling water, so you will need a stove for those. 
Have a dehydrated meal for breakfast and at the end of the day, as well as snacks for during the day. Snacks should be energy dense but weigh as little as possible.
The bad news is that the food will make your pack quite heavy at first, but the good news is that it will lighten up over time.
Flat out, I recommend jerky for everyone. My go-to brand that isn't filled with sugar and artificial flavoring is Carnivore Crips. They also have a beef liver option which gives me more energy…I have no idea why.
Carnivore Crisps give our readers a first-time 10% discount…just use this link or type WILD at checkout.
Other articles you should consider reading when it comes to food and nutrition when on the trail are:
8. Don't be an egotistical maniac
If you're going to fastpack for four days, you need to be in the same good shape on Day 4 as you were on Day 1. 
The route you choose and the distance you cover should be physically demanding, but you shouldn't go overboard. 
When you're already carrying minimal gear and are in a dangerously isolated place, engaging in strenuous physical activity is a considerable risk.
Try focusing on achievable goals instead of having to call the rescue services.
9. Leave no trace
Nothing is worse than going on a beautiful fastpacking adventure only to find a can of Red Bull stuffed into a hole in a tree or a firepit that has ruined the ground around it. 
It would be best to leave the area you have slept in better than before. Have a little respect for nature, and it will respect you.
Bonus Rule
If you are fastpacking in a part of the country with dangerous predators, you need to know what to do. Be sure you understand predator behavior.
It's also wise to carry bear spray if you are in bear country. I just spoke to a fellow fastpacker who had a dangerous Grizzly Bear encounter. He didn't get eaten, but it didn't sound like fun.
Checklists
Preparation and knowledge of your surroundings are critical for a fun and successful fastpack journey. That's why I wrote these lists and checklists to help you pack and be ready for your outing.
Conclusion
Fastpacking is the best combination of running and hiking. It gives you a goal for getting in shape and staying healthy. If you want to get in touch with nature and de-stress, this is the sport for you.
You must convince yourself that despite the difficulty, you will have a good time doing it.  Embrace minimalism and enjoy it.