How to Sleep Fastpacking | The Ultimate Sleep System Guide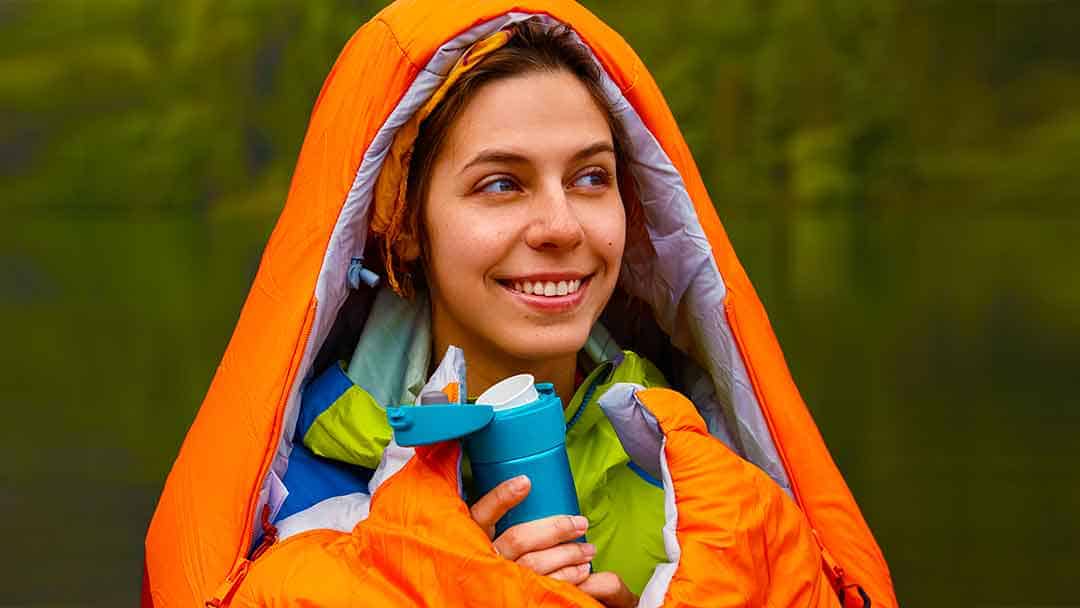 As an Amazon Associate we earn from qualifying purchases made on our website. If you make a purchase through links from this website, we may get a small share of the sale from Amazon and other similar affiliate programs. You can read our complete legal information for more details. By using this site, you agree the information contained here is for informational purposes only. For specific medical questions, consult your doctor. NO information on this site should be used to diagnose, treat, prevent or cure any disease or condition.
Fastpacking, for those that don't know, is a way to move along a trail with everything on your back. You are backpacking but fast, where you run and hike rather bimble along. 
With this in mind, you have to travel light, well you have to travel ultralight with a 30-35l fastpacking bag usually. 
Even though every gram is important, it is also essential that you sleep well. So, when you are fastpacking, you need to have the best night's sleep possible while keeping things ultralight. 
The ultimate sleep system
Now that you've planned your next fastpacking get-away, you need to be sure your sleep system is up to par. Here are some examples of how you can build your sleep system with sleeping bags, mats, and propper pillows:
Sleeping bag
The sleeping bag can be the difference maker in keeping your body temperature in a safe range. It must not be overlooked, and it's talked about in the 16 most dangerous fastpacking mistakes.
Here are two great options.
Some may find the high price of premium light-but-sturdy materials to be an unwelcome barrier to access.
Luckily, Marmot offers a lightweight sleeping bag at a price that is comparable to that of more traditional low-end models.
However, the 40-degree Micron boasts many convenient features, such as a hydrophobic down, an internal pocket, and a full-length zipper that extends all the way down to the foot box.
This sleeping bag can unfold into a lofty blanket and allows for complete ventilation on warm evenings, which is why I love it so much. In a market where many bags cost more than $500, the Micron's price tag of just $179 is a steal.
For its price and durability, the Micron outshines the competition among ultralight sleeping bags but at an affordable price.
If you haven't already, you should learn more about Feathered Friends. This Seattle-based down specialist uses high-quality materials, provides a wide selection of options, and makes nearly all of its wares domestically.
Since they only sell through their website, they keep the costs down without sacrificing quality. There are probably 1000s of sleeping bags you could choose from, but Feathered Friends stands out as the clear market leader.
The Hummingbird UL is an excellent pick for an ultralight, three-season sleeping bag. The 30-degree version weighs only one lb., 5.3 oz, despite being packed with 11.5 oz. of 950-fill goose down.
Moreover, it has a thin 10-denier Pertex Endurance shell that is impervious to water, which is excellent if you have condensation problems in your tent. 
Sleeping mat
Once again, we find ourselves with an important purchase, the sleeping mat. Not all sleeping mats are created equal, and this can be the difference between actually sleeping on your trip and not getting into REM. Know what I mean?
Here are two highly regarded sleeping mats.
When it comes to lightweight sleeping mats, one of the best options is the Uberlite from Therm-a-NeoAir rest.
It weighs an astounding 8.8 ounces and compresses to a size smaller than a 1-liter Nalgene Bottle (250 grams).
Another option is the shorter, lighter version that still provides full coverage from head to hips but weighs only 6 oz (170 g).
This lighter weight was achieved by decreasing the amount of thermal material utilized in the construction of the Therm-a-rest NeoAir Uberlite mattress. The R-Value of 2.0, or 37F/3C, makes this sleeping pad suitable for use during the warmer months or three out of four trekking seasons, depending on where you live.
For those who prefer to sleep on their sides, Etherlite Insulated is one of the best-insulated mattresses available. This is the mat for you if you're a side sleeper like me and hate how narrow mattresses dig into your hips and shoulders.
Like the uninsulated Etherlite used in the summer, this pad makes no noise when you change positions in the middle of the night. Combining its plush interior and effective insulation gives you an excellent pad for use during both winter and summer backpacking trips.
The pad can be inflated using the stuff sack, a tried-and-true method. The mat is excellent except for one thing: the weight. But if you are fastpacking in cold temperatures, you must have a mat with a good R rating.
Before we move on, I just thought you might want to review this article which details eight extremely useful fastpacking camping tips.
Pillows
Even hardcore fastpackers need pillows, as discussed in the ultimate fastpacking guide, haha! Here is what I use and some of my friends as well.
One of the more unique options is the Cocoon Ultralight Air-Core Pillow. Both sides are versatile and can be used for different purposes.
On chilly evenings, cuddle up with the plush microfiber side. The nylon side is better for warm evenings since it will keep you cool and comfortable even if you sweat a lot.
This can be inflated to different firmnesses making it easy to fall asleep after a long day on the trails. 
This cushion comes in two sizes, 14 inches by 18 inches and 16 inches by 22 inches, making it one of the largest I would recommend.
This is an excellent pick for those who value size and loft over portability and compactness, but it is still suitable for fastpacking.
When it comes to pillows, the Klymit Pillow X has it all: it's firm, durable, comfortable, and featherlight.
On top of all that, it helps keep your head in its natural, relaxed position, which is good for your posture and comfort.
Easily adjust the height and firmness of this pillow to your preference by adding or releasing air. The height of the pillow will be adjusted accordingly. It also affects the rigidity in different ways.
The pillow weighs less than 56 grams and has dimensions of 4.5 by 2.5 inches. It may be taken anywhere in its stuff sack and inflated with a couple of deep breaths.
One of the best features is that it doesn't break the bank and provides good value for money.
And speaking of bang for your buck, I believe that a tent is essential for a proper night's sleep, especially in gnarly weather. Here are my top six ultralight fastpacking-worthy picks.
Conclusion
Hopefully, this article is of some use to you. My final bit of advice: don't be tempted by super cheap options.
In fact, most of the time, when you go cheap, you end up paying for it in loss of comfort, in this case, sleep, and eventually with the wallet, as you will probably opt for the more expensive/useful option in the future!
Fastpacking is about having ultralight gear that doesn't fail you on the trail… that costs money, unfortunately.  You will need to keep adding to your fastpacking kit, and I go into further details and costs here: How Much Does Fastpacking Cost? Gear Breakdown & List.
Now that you have the sleep system out of the way, do you have the rest of your Fastpacking kit set up? Here is an article with more info and suggestions on what you need.