The Best Festivals in Colombia: Which Ones Should You Attend?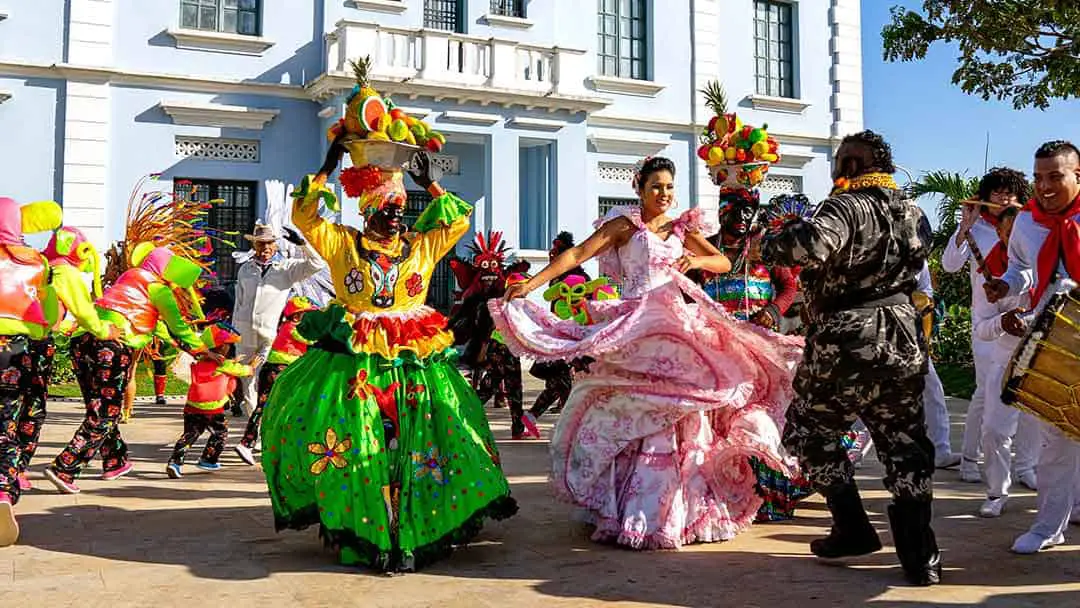 As an Amazon Associate we earn from qualifying purchases made on our website. If you make a purchase through links from this website, we may get a small share of the sale from Amazon and other similar affiliate programs. You can read our complete legal information for more details. By using this site, you agree the information contained here is for informational purposes only. For specific medical questions, consult your doctor. NO information on this site should be used to diagnose, treat, prevent or cure any disease or condition.
Colombia is internationally known for its vibrant festivals and lovely people, which bring both local and foreign tourists. As a Colombian myself and having attended many of the best festivals in the country, I can understand why they attract locals and tourists alike.
In this post, we will talk about the best festivals to attend within Colombian throughout the whole year.
Regardless if you want to learn more about the country's culture, history, and vibrant people or just want to spend a good time at an event, Colombia has excellent options.
So, keep reading not to miss the opportunity to be part of these joyful celebrations!
What Are the Best Festivals to Attend in Colombia, and When Do They Take Place?
There is no shortage of festivals for those who live or visit Colombia. They happen all around the country and in different months of the year. 
Before going into details about each of them, I prepared a resume of the best festivals that you shouldn't miss if you have the opportunity to attend.
Besides that, there is also an approximate calendar with the dates they usually happen:
Carnaval de Barranquilla (February – March)
Medellín Flower Fair (August)
Cartagena's International Cine Festival (March)
Cali Fair (December)
Festival de la Leyenda Vallenata (April – May)
Carnaval de Negros y Blancos (January)
Festival de Música del Pacífico Petronio Álvarez (August)
Bogotá Book Fair (April – May)
The dates of most festivals may change every year, so it's important to check the exact date in order to attend them. Now, let's jump into more details about the best festivals to attend in Colombia!
Carnaval de Barranquilla: Largest Carnival Party
Barranquilla's Carnival is one of the largest and most significant celebrations not only in Colombia but in the entire of South America.
For those looking for alternatives to the famous Brazilian Carnivals, Barranquilla offers a joyful festival that takes place in the streets of the city.
Every year, during the last weeks of February and the beginning of March, the city is converted into a stage. Thus, various folkloric, musical, and dancing expressions meet to allow both Colombians and foreigners to fully express themselves and experience a vibrant festival.
If you, like me, enjoy music, dance, and festivities and want to experience one of the best events in Colombia, you can't miss the yearly carnival. It's an excellent option for those looking for an authentic and unique experience.
Remember to dress comfortably to enjoy the best of this festival, as you will be dancing, walking, or standing for the most part of the celebration. It's also important to note that Barranquilla has some of the warmest weather in Colombia.
This guide on what to wear in Cartagena will further explain the warm conditions and how we dress for them
On the other side, if you are not into crowds and loud music, you may feel a bit displaced and should probably look for alternative options for festivals to attend. So, continue reading to find out more.
Medellín Flower Fair: Colorful and Floral Celebration
Who doesn't love flowers? In Medellín, the second-biggest city in Colombia, the answer is no one. La Feria de las Flores, the city's most prominent and well-known festival, is a celebration that suits everyone.
There is no better way to understand the passion and excitement of Medellín citizens for flowers than attending their yearly celebration. 
As a born and raised Colombian, I have always been amazed by the beauty of my country's diverse festivals, but the Medellín Flower Festival has a special place in my heart.
It's a celebration of everything floral, human warmth, passion, and the joy of all Colombians.
I recommend it to anyone who wants to immerse themselves in the beauty of Colombian culture.
At the Medellín Flower Festival, both locals and visitors have the chance to experience astonishing flower displays, exciting parades, and exquisite food in the mild temperature of the eternal spring city.
Here is a great article on Medellin you will find informative: Cartagena vs. Medellin: Which is the better travel destination?
Cartagena's International Cine Festival: Celebrating Latin Cinema
When the subject is Latin American cine, Cartagena stands with its own festival, which attracts thousands of fans, tourists, and filmmakers every year.
This event happened for the first time in the 60s and has been growing over the decades as a showcase for the best movies produced in Latin America, especially in Colombia and the Caribbean.
If you love cinema, especially art films and pieces from independent filmmakers, this festival is surely a match for you while visiting Colombia.
Besides celebrating the work of Latin American filmmakers, this festival promotes a celebration of Cartagena, its iconic history, and vibrant culture. 
In addition to the movies, the event offers different activities in its programming, such as workshops, panel discussions, and open talk spaces for filmmakers to share their insights and expertise with the audience.
The International Cine Festival of Cartagena usually takes place in March, but the actual exact date may vary each year. So, be sure to check on their official website in order to attend.
Here are some other articles you will find useful about Cartagena:
Cali Fair: Dancing in the Valley del Cauca
Another city with great relevance within Colombia and which also shapes the country's culture is Cali. Situated in the Valle del Cauca, it has the most popular dancing festival in the entire country.
As Colombians from other parts of the country, we always think of Cali as a very artistic and vibrant city with joyful people where the best dancers and performers meet to showcase their skills.
Cali is home to some of the best dancers in the world, and this is one of the main attractions of this festival.
As the salsa capital of the world, in La Feria de Cali, you will find a diversity of performances, exhibitions, competitions, and workshops for both artists and visitors interested in learning more about the genre.
Dance in Colombia is such a major part of the culture as outlined in Dancing Culture in Colombia and Their Cities.
Despite that, the festival isn't exclusively focused on salsa dance, as it also offers a variety of other cultural events. For example, you can go to the parades which feature traditional clothes and music, as well as food fairs which showcase the best of local cuisine.
If you want to taste some of the best food in Colombia, Cali is also a great choice. Being located in the Andes region, the local population has access to a range of fresh ingredients such as fruits, vegetables, seafood, and quality meat.
The event takes place during December, so make sure to add it to your calendar not to miss a single day.
Festival de la Leyenda Vallenata: Vibrant Local Music Festival
Everyone knows that Colombia is a very musical country, and among the biggest music festivals in South America, it's the Festival de la Leyenda Vallenata. It's a celebration of Vallenato, an original Colombian rhythm famous for its accordion melodies and beautiful lyrics.
The event happens in Valledupar, another iconic city within Colombia, where the genre developed and spread across the nation. The festival takes place for four days varying between April and May.
Visitors have the opportunity to be part of a range of cultural activities which includes accordion competitions, parades with colorful traditional costumes, performances of dance, and other art exhibitions.
The festival has been internationally recognized, and UNESCO has declared it an Intangible Cultural Heritage of Humanity.  
Furthermore, the Vallenato Legend Festival goes beyond music and represents an entire celebration of Colombian heritage, giving emphasis to the country's unique music, which is listened to and danced to not only nationally but abroad.
Carnaval de Negros y Blancos: Vibrant Display of Diversity
Carnaval de Negros y Blancos is the second most popular carnival celebration in Colombia, after Barranquilla. It's a beautiful celebration of Colombian diversity, where every of the main ethnic groups of the country is honored.
It takes place in the southern city of Pasto and happens between the 4th and 5th of January every year. The first day of the event is known as the "Day of Blacks," and it's a celebration of Afro-Colombian heritage.
Black people have made significant contributions to the development and culture of Colombia throughout history. Participants of the carnival paint their faces and bodies with black and brown paint, besides dressing in vibrant costumes.
On the second day of the festival, also known as the "Day of Whites," participants celebrate the Spanish and Indigenous influence on Colombian culture. Like on the first day, this time, attendees paint their bodies and faces with white paint or talcum powder.
In resume, the Blacks and Whites Carnival is a festival that celebrates the diverse and unique cultural and ethnic composition of Colombia.
Festival de Música del Pacífico Petronio Álvarez:  Celebration of Afro-Colombian Rhythm
Petronio Álvarez Music Festival is another event that is held in Cali, in the Valle del Cauca region of Colombia. While the Cali Fair focuses on dancing, especially salsa music, this festival gives emphasis on celebrating the music of Afro-Colombian communities.
Petronio Álvarez was an iconic music artist from the Colombian Pacific Coast who was very important for the preservation of the traditional local music and culture. 
Taking place every year since 1997, the festival has become one of the main events to attend in Colombia. The event focuses on promoting traditional music genres such as bambuco, currulao, and chírimia, as well as Colombian dances.
It's a must-see for those who want to understand the diversity of Colombian music genres and dances. The event is usually held in August and lasts for five days, making the city of Cali receive thousands of visitors from other Colombian cities and abroad.
If dance is your thing, you'll want to get acquainted with Colombian dances here The Different Colombian Dances Explained.
Bogotá Book Fair: Explore Cultural and Literary Diversity
La Feria Internacional de Libro de Bogotá, also called FILBo, is the most distinctive festival on this list.
It's a yearly event that takes place in the capital of the country and is one of the most significant cultural events in South America.
In contrast to the other festivals, the Bogotá Book Fair has the goal of celebrating literature and education. It's a unique opportunity for Colombian and fellow Latin American authors, publishers, and readers to gather and show their appreciation for books.
If you love reading, especially books from Spanish-speaking authors, the fair is a great choice of event for you to attend. You will find a range of different activities, such as conversations with authors, book showcases and signings, as well as dedicated spaces.
For example, there are spaces for children and young adults, workshops, games, storytelling activities, and much more.  It's a complete event for literature lovers to find new authors and share time with people with whom they share the same hobby.
For ex-pats who live in Colombia and already have a good grasp of the language, the Book Fair is a great event to attend. 
On the other side, for visitors and tourists who don't speak Spanish, this festival might not be the best recommendation, as in order to fully participate, it's recommended a good level of understanding of the local language.
Tips to Enjoy the Best Festivals in Colombia
Festivals are a great option to enjoy the best of Colombia while in the country, including music, art, dance, food, and culture in general. And you can do all of these plans with friends and family.
Although, with crowded spaces and a huge amount of activities available, it might be difficult to fully enjoy the experience of some festivals. For this, as a Colombian who has already attended many of these events, I prepared some tips to help you prepare and enjoy the most:
Plan ahead: Make sure to do your own research on the details of each festival in anticipation. It's useful to write down what activities you want to see and the timeframes of each of them.
Wear comfortable clothes: It's one of the indispensable tips when you realize that most of Colombia has quite warm weather and that you will be walking during most of the festivals.
Keep hydrated: Drink enough water during the festival, as they may go on the whole day, and you can easily dehydrate. Drinking tap water in Colombia can be safe or dangerous depending on the city, so make sure to research and ask locals before anything.
Bring Colombian Pesos: While in many countries, cards are accepted everywhere, in Colombia, most small shops still don't accept cards, and on the streets, it's almost impossible to pay for something without cash or local apps, which are limited to national citizens.
Protect your belongings: As in most countries, while most people go to festivals to enjoy and have a good time, a few people may go with other intentions. So, take care to keep your stuff safe. Take a bag or backpack with you and keep an eye on it.
Should You Attend Colombian Festivals?
Attending a festival in Colombia can be a memorable and unique experience in your life. Actually, it can be considered a must for tourists who visit the country and want to experience its vibrant and rich traditions.
They are not only an opportunity to watch beautiful presentations and parades and taste exquisite food but also to connect with other people who have the same passion as you, locals, and visitors.
Check out these popular Colombian-style posts: