Ultimate Guide for What To Wear In Cartagena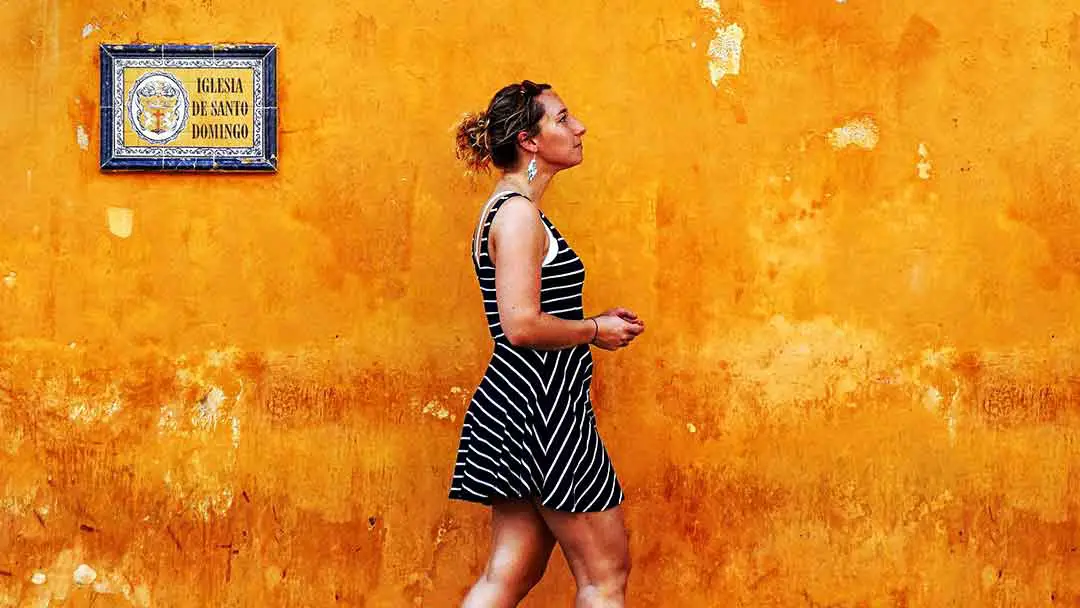 As an Amazon Associate we earn from qualifying purchases made on our website. If you make a purchase through links from this website, we may get a small share of the sale from Amazon and other similar affiliate programs. You can read our complete legal information for more details. By using this site, you agree the information contained here is for informational purposes only. For specific medical questions, consult your doctor. NO information on this site should be used to diagnose, treat, prevent or cure any disease or condition.
So, you are preparing for your visit to Cartagena, and you are wondering what to pack in your suitcase. 
As an ex-pat-local of Cartagena, I've definitely figured out what works best here, and now I can share my experience with you. Here is the ultimate guide on what to wear in Cartagena.
I Want To Wear What the Locals Wear
Locals in Cartagena dress to impress. Both men and women love fashion and enjoy planning their outfits for the day. 
They accessorize and have a wide array of matching shoes, belts, purses, watches/jewelry, and hair accessories. 
You can spot luxury brand names across all socioeconomic strata; the rich have originals, while the poor have knock-offs, but brands are important nonetheless.  
Forget hiking sandals and high-performance travel shirts if you are looking to dress like the locals.
In order to blend in, you need high heels for women and moccasins for men. Fancy dresses and tailored linen pants. Designer purses and icy watches. Skimpy bikinis and short swim trunks. You get the idea.
People are always watching you in Cartagena, so dress well because it will be noticed. 
It may not be practical, but if you want to look less like a tourist and more like a local, this is the way to go. 
What if I Just Want To Be Comfortable?
If you don't care about what people say, you may be looking more for advice on how to dress for the weather and local conditions.
First of all, let's address the weather in Cartagena (for an in-depth look at the weather and other conditions in Cartagena, check out Cartagena vs. Medellin: Which is the Better Travel Destination).
Cartagena's weather is hot and humid, as with much of the Caribbean. Temperatures reach well above 30°C (85°F) during the coolest times of the year.
Add to that 90% humidity, and it feels like you are in a hot sauna most of the time.  Cartagena also has a lot of sunshine. It is rare to see a fully cloudy day, even during the rainy season.  
See Can I Drink Tap Water in Cartagena to find out how to safely stay hydrated in the heat.
With the weather in mind, here is your guide for what to wear in Cartagena if you want to be comfortable:
Breathable and Wicking Fabrics
If you are not used to hot weather, you will probably sweat a lot when you are in Cartagena.
Choose materials that are light and breathable. Sports performance fabrics will wick away moisture and dry quickly.
This is also important because you may be going to the beach/ocean/islands while visiting Cartagena, and the quicker your clothes dry, the more comfortable you will be. 
This also applies if you plan on visiting Colombia's other tourist destination, San Andres, which we discuss here: San Andres vs. Cartagena | Which Should You Travel To?
Avoid Skin-Tight Clothing
The high humidity and sweat mean that you will feel damp for the majority of your time in Cartagena. 
Avoid packing tight clothing that clings to the body, such as skinny jeans and leggings.
It is difficult to slide these on when your skin is humid.  If you like to show off your body, skin-tight is perfect, but just be prepared to wrestle with your outfit while you are getting dressed.
Cotton. Yes or No?
Cotton is a very breathable fabric, but it also absorbs water like none other. I enjoy wearing 100% cotton in Cartagena over synthetic fabrics like polyester because it allows my skin to breathe.
The problem with cotton is that if it gets wet, it stays wet.
Cotton is a great fabric to wear in certain instances. Try it if you are walking around the old city in the evening or out to lunch in an air-conditioned restaurant. 
Avoid cotton if you have any chance of getting wet. For example, on a boat trip to the islands or sitting out by the pool. 
Another alternative to cotton is linen. It is a very light and breathable fabric and very coveted in Cartagena as a stylish alternative to cotton.
You will often spot men in linen suits and women in elaborate linen dresses. The biggest problem with linen is that it wrinkles easily, so it is difficult to pack.
Make sure you have access to an iron if you plan to wear linen in Cartagena. Also, be sure you have access to Colombian pesos just in case you want to buy some local linens or read this article Can I Pay with US Dollars in Cartagena? Ensure You Check This Info!
Short or Long?
Since it is hot in Cartagena, you may be thinking that the smaller the clothing, the cooler you will be.
This is true when it comes to the heat, but don't forget to take into consideration the sun. If you have light skin or are prone to burning, it is best to keep it covered as much as possible.
Colombia is very close to the equator. The sun rays in this part of the world are very intense and will quickly cause damage, even on darker skin. 
Wear sunscreen as much as possible, but also consider wearing a loose layer of long sleeves and pants. If they have UV protection, even better. 
I prefer a reef-safe, less toxic sunscreen like Sun Bum.
Heat stroke is very common in Cartagena, especially for tourists. The less you expose your skin to the sun, the more you can avoid its harmful effects.
Accessories
In terms of accessories, do not forget to pack a good hat and UV sunglasses (see my previous point RE: the sun!). Bring them everywhere you go during the day. 
Leave Expensive Jewelry at Home 
This is a contradiction to my previous point about dressing fancy to look more like the locals.
The reason I suggest not bringing jewelry is that there are too many chances for you to lose it, damage it, or get robbed:
You may drop it in the ocean or pool. I often see a guy with a metal detector roaming the beaches of Cartagena. He assures me that every day he goes out, he comes home with new treasures that he found in the water or sand.
It may get damaged by salt water or chlorine.
It may get stolen. Colombia has come a long way, but we are still a developing nation with highly skilled pickpockets who love to target foreigners.
In fact, read this before your head out to Centro: Is Getsemani, Cartagena Safe?
How Many Swimsuits Is Too Many?
Bring as many bathing suits as you can carry! There's no worse feeling than putting on a wet bathing suit when you are dry.
With the myriad of water activities in Cartagena, you are likely to get wet more than once a day.
At the bare minimum, I suggest bringing two swimsuits. If you plan on wearing your swimsuit as a clothing item, then you may need even more.
I also suggest checking out my Cartagena Beach Club Guide here!
What about shoes?
There is no better shoe for Cartagena than a good pair of hiking sandals. This type of shoe will keep your feet cool and allow you to walk around comfortably.
They will serve you well when maneuvering the uneven sidewalks and getting wet as you are trying to board a boat at the beach.
If you are traveling during the rainy season, you will likely need to cross flooded streets; hiking sandals are perfect for this, also.
I recommend hiking sandals over running shoes, Birkenstocks, and flip-flops any day.  Barefoot styles are great if you're already accustomed to them, but if not, you can't go wrong with a pair of Tevas.
If you don't feel like wearing walking shoes, see my recommendations for taking a cab or Uber in Cartagena.
What to Wear For Different Occasions
Night In The Town
Even if your goal is to pack light and dress for the weather, don't forget that looks in Cartagena matter.
Pack at least one full outfit to wear when you go out and take the town by storm. 
Try a nice button-up and fitted shorts if you are a man or a colorful floral dress if you are a woman. 
Please do not show up in flip-flops. Honor the amazing restaurants and nightlife that Cartagena has to offer by dressing the part.
Everyone around you will thank you for it, and you will feel more comfortable in your surroundings.
Curious about our dancing culture? Then check out this article: Dancing Culture in Colombia and Their Cities.
Sunset Cruise
It is common to wear a lot of white in Cartagena. White reflects heat away, so it tends to be cooler, and it looks elegant and put together.
If you are going on a sunset cruise, choose an all-white dressy outfit.
Island Boat Tour
If you are spending the day on the islands, it is best to just wear a bathing suit right from the get-go.
There are not many places to change your clothes discreetly unless you are at an island resort or in a large vessel like a yacht or catamaran.
Don't forget a cover-up or rashguard to protect your skin from the sun. 
If you chartered a private speedboat or yacht, they usually make you take off your shoes when you come aboard, so don't fret too much about what shoes you will wear. 
If you are on a large commercial tour, pack everything you need into one bag you can easily carry.
Warning: there are not many places to leave your stuff safely, so you will need to carry your stuff with you at all times. 
Whenever possible, bring snorkeling gear, fins, or at least some swimming goggles to check out the underwater wildlife.
Business
If you are visiting Cartagena for business, a tradeshow, or a conference, business casual is what you should wear.
Men don't usually wear a full suit and tie in Cartagena because it is too hot. 
The more common practice is to wear a button-up shirt and dress pants. Keep it to lighter colors, like blues, khakis, and whites.
Avoid black and gray. 
For women, dresses are still your best friend. You will see a lot of bold colors and floral prints, even for business attire. And, of course, don't forget about your heels or fancy sandals.
Weddings
Cartagena is a sought-after wedding destination for Colombians and foreigners alike. A wedding in Cartagena is usually an elegant affair: black tie, live band, open bar, plated dinner,  etc.
While every wedding is a little different, people will be dressed to the nines. 
If the wedding is in the afternoon, the dress code may say "Guayabera" for men. Guayabera is a light-colored, linen dress shirt used in the Caribbean.
They are considered formal attire, and you can purchase them at many clothing stores in Cartagena.
If the wedding is in the evening, you may be asked to wear a tuxedo and floor length dress.
For women, consider wearing bold colors or metallic fabrics. You can easily rent formal attire in Cartagena.
Curious about Cancun? Not sure which is better? Check out Cancun vs. Cartagena: Which Caribbean Spot Is Better?
In Closing 
This comprehensive guide for what to wear in Cartagena covers the major points to consider for your trip. As always, remember that the most important thing to wear is whatever makes you feel most confident. 
If you found value in this article about Cartagena, you will probably find value in these as well: