How to Plan Fastpacking Trips | 10 Essential Tips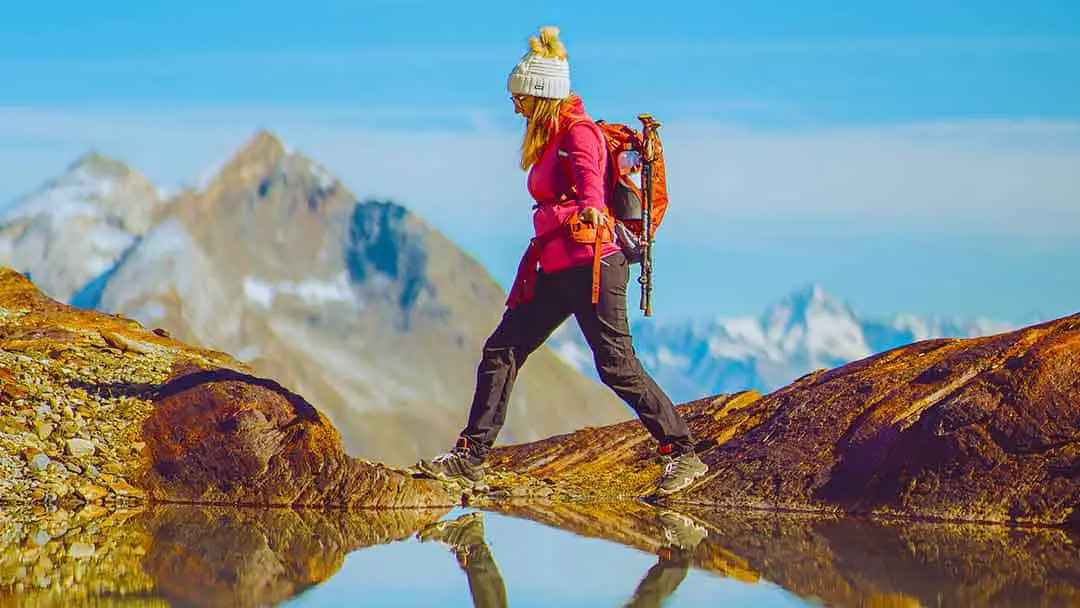 As an Amazon Associate we earn from qualifying purchases made on our website. If you make a purchase through links from this website, we may get a small share of the sale from Amazon and other similar affiliate programs. You can read our complete legal information for more details. By using this site, you agree the information contained here is for informational purposes only. For specific medical questions, consult your doctor. NO information on this site should be used to diagnose, treat, prevent or cure any disease or condition.
Moving long distances on your feet, usually quickly, over multiple days, with camping in the outdoors is known as fastpacking.
The same may be said about ultralight backpacking, but often you try to run for at least some of the day with Fastpacking. Fastpacking has become popular among hikers and backpackers who want to carry less weight and cover more ground, and if you're ready, here are 10 essential tips.
Do you qualify?
The following are some of the benefits of fastpacking:
People who want to go on multi-day hikes but don't want to carry 30-40 pound packs all day.
Backpackers who want to travel faster and comfortably by reducing their pack weight.
Trail runners who plan to camp overnight on multi-day runs.
There are several advantages to fast-packing that make it a viable option for anyone who wants to be self-sufficient and safe while reaching their goals.
Plus, it's a great way to exercise, and some people consider it a sport, but not me, and here's why.
If you are completely new to fastpacking, you will want to read our Ultimate Fastpacking Guide first and then come back to these planning tips.
10 Tips for a successful fastpacking trip
This list is super important as a lot of ultralight runners move into fastpacking, which is completely different. In my opinion, the following are the most important considerations when planning fastpacking trips:
1. The difficulty of the terrain
Consider the trip's elevation gain/loss, trail conditions, water sources (check out Find a Spring), and remoteness. Is there a limit to how much elevation you can gain in one day?
Take into account any health issues or physical limitations that could jeopardize your ability to complete the course.
Is there anything wrong with your knee? First-timers should choose a trail that's not too strenuous and is easy to navigate.
2. Food & Water
For how long you'll be hiking, you'll need to pack food accordingly. Think about how many breakfasts, dinners, and energy snacks you'll require for your trip.
Bring energy bars and chocolates as well as other non-food items. Powerbars, Clif Bars, jerky, or gel packs for meals and snacks.
My go-to jerky is Carnivore Crisps because there are no additives. (10% off link or use WIld at Checkout)
It's possible to get close to a hardier dinner with dehydrated packets or couscous soaking in cold water. Try to get food that has a high amount of calories per gram.
Water filters are essential, or you will need to boil water to help prevent yourself from getting giardia or other nasty and dangerous bugs.
Go to the next level and get acquainted with these lists:
3. Be comfortable in the outdoors.
The first time you venture into the great outdoors, assess your talents and stay within your comfort zone.
Become familiar with maps, compass reading, and navigation. For wilderness treks, even if you plan to follow a well-marked path, these skills are vital.
4. Leave no trace
Respect nature, leave no trace, and try to leave an area better than it was. If you see some rubbish, pick it up. Even if you're exhausted and just want to finish your trip, you should always practice LNT.
Simply said, if you don't care about the places you visit, you have no business being there.
5. Prepare yourself for the worst
Even though the likelihood of an emergency is remote, you should make plans now to deal with it if it occurs.
Leave a copy of your itinerary with a family member or friend. Check-in sites, phone service regions, or times when you'll turn on your satellite-based gadget and send an all-clear signal to whoever is keeping track of you during extended excursions; this should all be planned out in advance.
You'll also want to think about how to get out of the wilderness if you can't complete your journey. Make sure that whoever is keeping tabs on you at home is aware of this information.
Discuss with people what would happen if someone went missing, was severely injured, or was otherwise ill.
Prepare for the unexpected in advance, but also have a basic emergency reaction strategy ready in case something terrible happens.
Finally, when making travel arrangements, keep your level of risk aversion in mind. If you've pushed yourself too far, this is the place to stop and recuperate, and use things like knives with extreme caution, especially if you are in a remote location. 
6. Pack light
The longer the trip, the more food, and water you need; these will be surprisingly heavy. This means you must be careful about what else you will take.
Therefore you will need to find the lightest tent, sleep system, spare clothing set, and illumination you can afford. They also need to suit the conditions where you are fastpacking. 
It's probably a good idea to check out this list of six ultralight fastpacking tents to save more weight.
Carrying more or heavier gear may make the nights warmer and allow you to sleep better, but it will also put more stress on your body, increasing the likelihood that you will become injured and unable to complete the race or expedition.
I discuss the necessities and what I use on my trips here in "The Ultimate Fastpacking Kit List."
7. Find multiple uses for the same things
In the heat of the summer, I'll bring a down jacket and a down sleeping bag rated at 50 degrees Fahrenheit.
If the temperature drops at night, I'll sleep in both rather than lug along a bulkier and heavier sleeping bag with me.
My hiking poles can also be used to set up a tarp tent. I take a water bottle with attachable water filter heads, plus I use a poncho instead of a waterproof suit as it is more versatile. I also have a sleeping mat that can double as a seat.
8. Only take what you need
Identify whether or not an item is essential. Don't bring your favorite camp chair or new road running shoes or slippers.
Full disclosure: I bring my blow-up cushion even though it isn't essential. It weighs just 2 ounces, doesn't take up much space, and makes me happy.
9. Route
The first decision you must make is the path you want to take. Consider the weather, terrain, access to water, remoteness, daily mileage, the type of wildlife you'll see, and more while planning your journey.
Before committing to a daily mileage goal, consider the weather, elevation gain or loss, altitude, and other considerations.
Backcountry permits and campsites may need to be reserved in advance, or you may be able to get them on the spot, depending on where you're going.
Lotteries are sometimes used to distribute backcountry permits.
You are responsible for familiarizing yourself with the rules of the wilderness area, national park, national forest, or other public lands to which you are traveling.
You are expected to follow these restrictions. Conducting the study in advance is an excellent way to prepare for anything.
10. Navigation
As long as you have a way to recharge your phone or pack enough battery power, your phone will be great for navigating.
Make sure to download maps and navigation programs for offline usage before you leave, even if you don't have access to a phone connection. Carry a paper map and an old-fashioned compass in case your phone fails.
Conclusion
Your first and foremost duty is to ensure your safety. Numerous severe injuries and even death have been reported from fast packers not preparing correctly.
That being said, fastpacking can be one the most fulfilling activities out there.
One other suggestion, don't forget to become familiar with your limitations and pace yourself. Being in shape is extremely important, and I share my exact training routine in this post.
I don't know of a better way to reset the mind and body after working online or in an urban environment. Enjoy the trip, and see you on the trail.