Cycle Touring in Ireland (The Ultimate Guide 2023)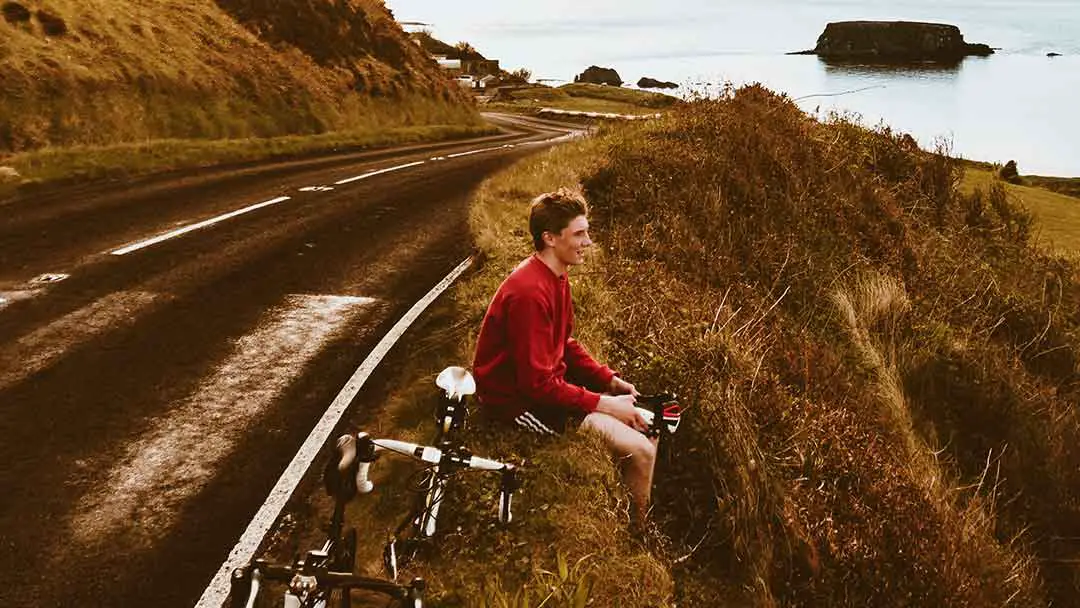 As an Amazon Associate we earn from qualifying purchases made on our website. If you make a purchase through links from this website, we may get a small share of the sale from Amazon and other similar affiliate programs. You can read our complete legal information for more details. By using this site, you agree the information contained here is for informational purposes only. For specific medical questions, consult your doctor. NO information on this site should be used to diagnose, treat, prevent or cure any disease or condition.
Ireland is well-known for its hospitality and mystical history steeped in well, "myth." The green landscape is iconic, nicknamed "the Emerald Isle." Despite its rocky history with the IRA during the late 1900s, Ireland is a nation of peace that offers a break from the rat race! 
If you're planning a trip to the island and are an avid cyclist, travel with your bike! Ireland is small, about the same size as the state of Indiana. This can make long bike tours a little tricky in this country, but there is plenty to see and experience! 
If you're looking for the best bike tours in Ireland, this is the best place to start! We'll give you all the details you need to start your journey and get the most out of your trip to Ireland! 
What is Cycle Touring Like in Ireland?
Ireland is a beautiful country with rolling hills, making it relatively easy to cycle through.
Several excellent bike paths take you through its historic cities and rural regions. There are also many open countrysides that allow you to have an unobstructed view of the surrounding natural beauty. 
Ireland is a country steeped in magic and history. It's known for its rich mythology involving the Banshee, leprechauns, and fairy folk. This adds to the country's reputation abroad as a place of ancient magic and legends. 
Cycle tours in Ireland allow you to enjoy the scenery at a slower, more immersive pace. Since Ireland is an island in the Atlantic Ocean, it experiences some storms.
However, the gulf stream brings warm, fresh air from the tropics. This makes Ireland's weather temperate despite it being reasonably far north.
They rarely have freezing weather, and the land maintains a fresh, green color throughout the year. 
The landscape of Ireland is spotted with ancient ruins of palaces and monasteries. These buildings show how varied Ireland's history has been and add to its beautiful qualities. 
In recent years the rise of the Irish Republican Army (IRA) disrupted the nation's tourism industry. However, today this group has largely calmed down.
The country experiences peace since it doesn't have many enemies abroad and retains a strong national identity. 
Bike touring in Ireland is a beautiful idea if you're planning a trip to the Emerald Isle! 
Is Ireland a Safe Country to Travel Through on a Bike? 
Ireland is a safe country with a relatively low crime rate. While Ireland experiences some level of crime, they have a low violent crime rate. Ireland's crime rate is significantly low compared to some U.S. cities. 
The most dangerous part of cycle touring in Ireland is the landscape. While crime is low and the people are amiable, the roadways aren't always as established as they are in the States. 
The nation is very rural outside of the cities. The roadways aren't well-established and make for some problematic traveling through the countryside. 
The off-roadway paths aren't well paved, and cars sometimes travel on them too. It's not legal for them to ride on these pathways, but it happens all the time, according to local media. 
Additionally, the roadways tend to bring riders along the island's coastline. While this provides a perfect view of the ocean and cliff faces, it's not always safe. It's even more dangerous for foreigners who might be unfamiliar with the pathways. 
There are several ways to keep yourself safe in these unfamiliar places: 
Wear reflective gear so cars see you
Bring a paper map or GPS in case you lose signal for your phone 
Try to familiarize yourself with the pathways before riding 
The most significant risk to riding in Ireland is being unfamiliar with the terrain. Avoid riding at night, use headlamps, and study the path you plan to follow. 
What is the Best City for Biking in Ireland? 
Coolaney, Dublin, and Antrim are some of the best cycling cities in Ireland. These cities offer some of the best bike paths, and the sightseeing is spectacular.
While other cities also offer great biking experiences, they don't provide the same level of well-developed pathways. 
Dublin has some of the best parks and bike paths in Ireland. Phoenix Park is a massive park in Dublin with over 1700 acres and takes riders along rivers and streams. 
The only downside of Dublin is the crime rate. While it's not a dangerous city, there are certain sections that you'd be best avoid when visiting the city. In particular, the Spire and Temple Bar districts tend to have the most violence and theft. 
County Antrim has several trails not far from the scenic Irish coastline. This tranquil county is part of Northern Ireland and near Belfast's capital. Some of the best trails include the Braid River Path and Lagan Towpath. 
These cities are excellent choices if you're just a tourist hoping to get a few miles in! However, even if you're hoping to do a full tour, make sure you travel through these cities.
Does Ireland Have Difficult Terrain for Biking? 
Ireland's terrain is not particularly difficult compared to more mountainous regions. As long as you're on a paved roadway, the swampy earth shouldn't disrupt your biking.
However, you should avoid dirt paths and off-road biking in Ireland since there are many peat bogs and swampy areas. 
Ireland has very wet soil, which makes it suitable for farming but not great for biking. Fortunately, this shouldn't impede your progress if you're biking on roadways or paved bike routes. 
I want to note Ireland might not be the best choice for those looking to bikepack. Since bikepacking requires a lot of off-road adventures, it's not the best place for this journey. 
While the grassy woodlands might look very appealing, Ireland is prone to sudden, heavy rain storms.
This can turn soothing woodland roads into a disaster of mud and slippery rocks. This is much too dangerous, especially if you're new to the area. 
If you do want to go off-roading, make sure you travel with companions. If someone falls and gets hurt or gets their bike stuck in the mud, someone will be there to help them. 
Also, using larger tires with thick treads is a wiser choice when traveling in Ireland. These offer a greater grip on the ground to prevent you from slipping and sliding on the wet ground. 
What is the Weather Like in Ireland? 
Ireland is a temperate climate with temperatures between 40-60 degrees Fahrenheit. Summers are a little warmer and may reach the mid-70s, but they rarely go above 80. The Gulf Stream keeps the island fresh and green most of the year and helps prevent ice from developing. 
Ireland's climate is much warmer than other nations of similar latitudes. While Norway is almost equally north as Ireland, it experiences much harsher winters and year-long ice patches. This is because the Atlantic carries warm air north on the Gulf Stream. 
The main downside to Ireland's climate is its constant rain. Ireland gets some amount of rain every week, making it difficult to enjoy the outdoors at times. 
However, if you plan accordingly, you can weather these incessant rainfalls. You should bring the following rain gear to stay warm and dry: 
Poncho
Raincoat
Rain hat
Waterproof shoes
Waterproof backpack 
Waterproof travel gear 
Also, be sure to check out our free bike touring packing list. It is a printable PDF!
Try to stay on paved roads as much as possible. Check the weather every day to ensure they aren't calling for heavy downpours.
You may want to seek shelter at a hotel or other residential spaces.
If you're planning to camp out, there are a few things you should take into consideration. Hammocks are the best choice for sleeping outside because they'll keep you off of the muddy ground. 
You can improve this sleeping arrangement by adding a cover like a tarp. This will catch the rain for you and prevent you from getting wet in the rain. 
Or go all in with your camping and try to do what this article shares Where to Camp When Bikepacking.
How Should You Dress for Biking in Ireland?
You should wear semi-warm, waterproof clothes while cycling in Ireland. While the weather doesn't get too cold, it can get chilly, especially with the moisture and constant rain.
We also recommend wearing long pants and shirts to prevent mud from getting on your legs. 
You should bring the following clothes items when traveling to Ireland: 
Light jackets (at least 2)
Long sleeve shirt
T-shirt
Tank top
Several pairs of undergarments
Waterproof jacket 
Beenie or some other hat to keep your head warm in the rain
Warm socks 
Waterproof shoes
Since Ireland isn't very cold, you don't want to bring very hot clothing. But you want to wear sufficient clothing to keep the chill away. 
Waterproof shoes are essential for your bike tour in Ireland. Since it rains constantly, your feet are going to get wet and soggy pretty quickly if you don't have waterproof shoes. 
If your feet are consistently wet, this can cause injuries to your feet, such as trench foot. Make sure you bring at least two pairs as well to ensure you can change them when needed!
Can You Cycle All Around the Perimeter of Ireland? 
Yes, you can cycle around the whole perimeter of Ireland. This ride is approximately 1300 kilometers or 808 miles from Belfast, Northern Ireland, and ends near Dublin.
The pathways range from main roadways to dirt paths that take you along the shoreline of the Atlantic. 
Cycling around Ireland's coast is a very scenic and immersive experience. It's one of the best ways to travel around the country and experience a combination of the countryside and city life. 
Traveling with the Cork-Beara cycle route is the most popular tour for experiencing these paths.
Even if you choose not to travel with these groups, you should undoubtedly try the pathway for yourself!
It's relatively long but not necessarily very long in comparison to some cycle tour routes. Yet, you should undoubtedly plan and train accordingly. 
This pathway will take you through various mountain ranges and through scenic areas of the country.
You'll also get a front-row seat on the cliff sides that decorate ocean views with their stunning white glistening beauty. 
I know we are discussing the beauty of Ireland, but if you plan on Bikepacking in the US, you definitely need to read these 11 Best California Bikepacking Routes.
Best Bike Tours in Ireland in 2023
1. Cliffs of Moher 
The Cliffs of Moher are one of the top cycling routes in the world! These beautiful cliffsides reveal some of the nation's most attractive sites; even a few folksongs are written about them! 
The pathway in this area isn't long enough to qualify as a cycle tour. However, it's certainly worth adding to your travels in the country and riding through the region on your tour
2. Aran Islands
The Aran Islands are a unique cultural experience separated from Ireland. While they share specific cultural heritages and histories, they have some of their own customs and folktales. 
The isles are composed of three separate and small limestone islands not far from the coast of Galway. Since these islands are separate from the mainland, you'll have to take a boat or ferry out to explore them. 
You can join various day trip tours to see all three islands while riding your bike! Make sure you see the different bronze age towers that still dot the coastline. 
3. Dublin Bike Tours
Dublin is one of the most well-known cities in Ireland. As the capital of the Republic of Ireland, it's one of the most visited sites for tourists and has some of the most active nightlife. 
It became a prosperous trading port after the arrival of the Vikings. They named it Dublin or Dyfflin, which came from the Gaelic word Dubh Linn, or Black Water. This is because the sea is so deep and dark that it appears black. 
With various bike paths all throughout the city and surrounding areas, it's one of the more accessible places to tour. Most bike tours in Dublin take you to the iconic historic spaces of the nation and explore the local wildlife. 
4. County Kerry Bike Tours
County Kerry is one of the wildest regions of the nation, with a magnificent view of the Atlantic coast. County Kerry's history is mingled with myth, with the place called Ciarraighe in Gaelic, derived from the hero Ciar. 
According to legend, the Ciarraighe tribe was descended from the legendary king Ciar, part of the Ulster Cycle. The Ulster Cycle is practically the Illiad and Odyssey of Gaelic culture. If you want to experience the local legend, Kerry is the place to start. 
Kerry bike tours can take you through this beautiful region. Be sure to stop and see Killarney, one of the loveliest areas of Ireland with a sweet small-town experience. 
5. Belfast, Northern Ireland Bike Tours
Belfast is the capital of Northern Ireland, with both beautiful history and modern luxuries. The name is derived from the Gaelic word "Béal Feirste," meaning "mouth of the sandy ford." 
The city is considered a modern hub of industrial innovation. It produced some of the world's most famous ocean liners, including the Titanic! 
Most of the best Belfast bike tours only last a few hours since the city isn't very large. However, you can attach some extra travel time to your tour by checking out the surrounding countryside. 
I highly recommend the Belfast highlight tour, which will take you to see all the city's best sites. 
6. 8-Day Adventure Tour Across Ireland
The Wild Atlantic Way Tour is one of the most inclusive tour options you can find! This tour will take you all along the Atlantic coast of Ireland, starting in County Cork. 
County Cork is just south of Limerick, with Waterford and Kerry surrounding it to the west and east. It's a rural and quiet area of Ireland, with a lot of historic monuments with legendary significance. 
This tour will take you to Blarney Castle (home to the Blarney Stone), Cliffs of Moher, and Killarney park. It is the perfect way to see the area and experience the great outdoors of Ireland. 
Conclusion
Biking in Ireland is a fantastic experience since it allows you to see the country up close and personally. You'll see the beautiful towers, medieval structures, and rolling green hills, which make it so popular. 
Make sure you stop by the local shops and pubs to get an authentic taste of the country. Irish people are welcoming and friendly people, but make sure you're always polite! 
Also, be sure to check out this free bike touring content:
Sources: 
Encyclopedia Britannica: Ireland
YouTube: Cycle Tours Ireland- Mullaghmore Co Sligo
Wikipedia: Irish Republican Army
World Nomad: Is Ireland Safe? 6 Tips from a Traveler
Ireland: Cycling in Ireland's cities
All Trails: Best Road Biking Trails in Antrim
Wild Lumens: 6 Types of Bikepacking Shelters Compared
Healthline: What Is Trench Foot?
Cycling Europe: Around Ireland on a bike
Cliffs of Moher: How to get here
Encyclopedia Britannica: Aran Islands
Trip Advisor: Aran Islands Bike Tour with Tea & Scones – Day Trip to Inisheer from Doolin
Trip Advisor: Mountain Bike Tours in Dublin
Trip Advisor: Mountain Bike Tours in County Kerry
Trip Advisor: Bike Tours in Belfast
Trip Advisor: Belfast Highlights Bike Tour
Trip Advisor: 8-Day Adventure Tour on Ireland's Wild Atlantic Way