Top 6 Winter Fastpacking Shoes | What I Use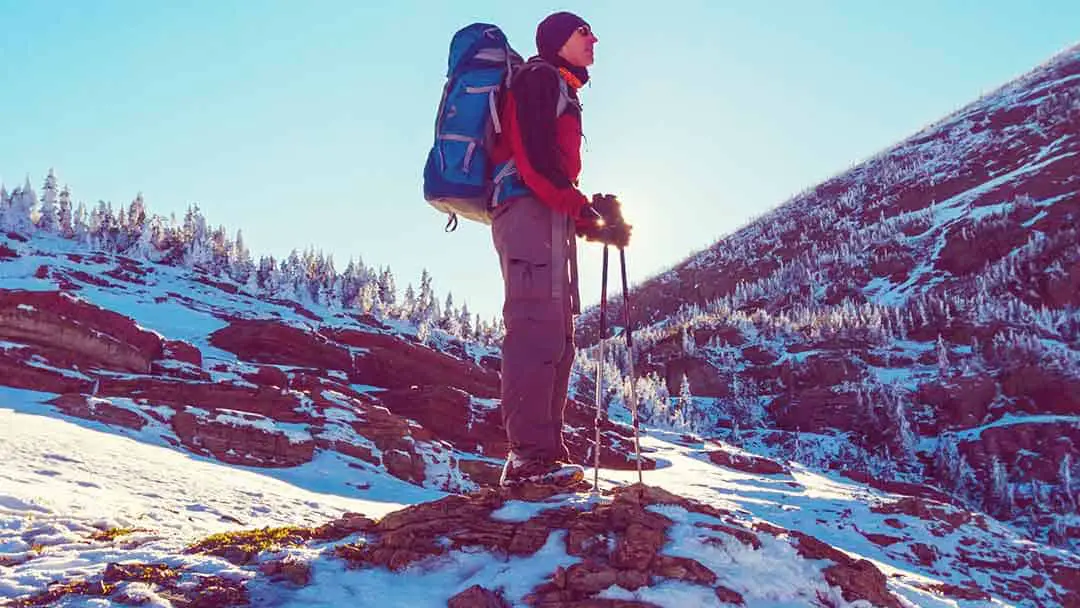 As an Amazon Associate we earn from qualifying purchases made on our website. If you make a purchase through links from this website, we may get a small share of the sale from Amazon and other similar affiliate programs. You can read our complete legal information for more details. By using this site, you agree the information contained here is for informational purposes only. For specific medical questions, consult your doctor. NO information on this site should be used to diagnose, treat, prevent or cure any disease or condition.
On trails that are in good condition in the summer, I like to use minimalist barefoot running shoes. However, in the winter, when the conditions could be a lot worse, I switch to regular trail running shoes.
Once you transition to barefoot running, I find it easy to switch between barefoot shoes and regular running shoes. So, here are some of my favorite winter trail running shoes for fastpacking. 
(Heads up, I live in the UK, so my experience is a UK type of winter season, not the Arctic.)
Top 6 Winter Fastpacking Shoes | What I Use
The Hoka Speedgoat had a good reception when it was released, and it's only gotten better since then. The Hoka Speedgoat 5 is without peer among today's cushioned trail shoes.
There is a lot of padding, but it's not so much that most trail runners will find it uncomfortable. 
In most cases, the extra grip provided by the Vibram Megagrip wide lugs is a welcome bonus. Vibram's Traction Lug improves grip by increasing the outsole's contact area with the ground through textured lugs.
Most noticeably, the Speedgoat has improved by losing half an ounce from each shoe. While that may not seem like much, keep in mind that it will make a difference whether you're running a trail 5k or are 80 miles into a 100-mile fastpacking trip. 
Having a less complicated top helps reduce the chances of hotspots arising too.
In general, the Hoka Speedgoat 5 is a durable and comfortable shoe that can be used for long distances on various terrains.
The Sense Ride 4 Gore-Tex is the complete package in almost every way. It maintains a high level of traction on both dry and wet surfaces. It offers a steady and smooth ride, making it suitable for long-distance trail runs and short, strenuous workouts.
The Sense Ride brand is known for its longevity and is a steal for £110. The Optivibe material used by Salomon to construct their midsoles flexes just enough to cushion your feet from the impact of running downhill at full speed but is still rigid enough to keep your feet planted firmly when the going gets rough.
The Contagrip outsole is comfortable to wear on rugged trails or even roads, and despite its modest lugs, it provides good traction in the mud during trail runs.
You're looking at a pair of long-distance racing shoes here. In the interest of time, you can forego several safety precautions in a race, like protection and padding, particularly when traversing soft ground. 
These have a low bounce (only 3mm) and a low drop (also 3mm), yet they grip and traction exceptionally well.
Graphene lugs 8mm deep are molded onto the flexible outsole (there are no rock plates) to cut through slime and grip wet rock as if it were dry. 
The mesh uppers won't hold up to rough treatment, but they'll be OK for light fells and cross-country.
You should save these narrow, lightweight shoes for the big race, where every gram matters. Therefore, they are ideal if your goal is to break a Fastpacking record or partake in a fast multi-day event.
Now seems like a nice spot to mention that I drop my top 6 tents I use while fastpacking in this article here.
Over the past decade, the Saucony Peregrine transitioned from a trail racing shoe to a more classic everyday trail shoe. 
The Peregrine 12 is lighter by over 1.5 ounces than the Peregrine 11, but it retains its racing pedigree while still being a practical everyday trail shoe. 
The shoe's very firm midsole maintains a more responsive feel, and the insole (sock lining) has been upgraded to improve the shoe's bounce.
The Peregrine 12 has improved upon its predecessor in every way: it has a better grip, mild cushioning, sufficient underfoot protection, a breathable yet locked-down top, and a lighter overall build. 
In general, there are only some particularly impressive features. It's just great because it just works.
The Peregrine 12 ST, a soft terrain model, is available for just $10 more and is ideal for runners who frequently traverse wet and snowy terrain.
The Trail Runner is the first off-road shoe from Allbirds, a company that only uses natural, eco-friendly materials in its products. 
The company's shoes use sustainable materials, including Merino wool, tree yarns, and sugar-based foams, to appeal to eco-conscious runners.
The Trail Runner is less effective than other alternatives here. It's a heavy, rigid sneaker that doesn't have the same bounce as other sneakers. 
However, it is a decent fastpacking shoe, though, where you encounter everything from paved roads to muddy trails to tall grass to rocks. So it is still a trustworthy shoe for trail running.
Although the 4mm lugs had trouble gaining grip in the mud, the shoe performed admirably on all the other surfaces I tested it on. 
If you want to go for casual runs on the trails and do your part to preserve the environment while you do it, the Allbirds Trail Runner SWT is the shoe for you.
The name alone should have been enough to tell you these sneakers aren't made for use in Parkruns. Long, fast trips where comfort and traction are paramount are adventures these shoes are designed for.
Whether you're training for an FKT or just logging long weekends, these shoes can keep up with you thanks to their highly aggressive 6mm lug tread pattern, integrated arch support, midfoot torsion bar, and highly breathable mesh upper. 
Their 8mm drop is also very user-friendly. The lack of waterproofing is a significant drawback, but I guess you can't have it all.
Conclusion
The trail running shoe market is very saturated, so you can find a good shoe for any budget. 
However, if the budget allows, you should buy from the best brands as they typically offer the best-made shoe. 
Yet, everyone is different, and you should look around for trail running shoes that match precisely what you want rather than a shoe with the best marketing. 
In case you missed it, I did a review of the Top Summer Fastpacking Shoes. It's basically a list of my favorite shoes that I actually use. Also, if you need some more info on what you need when you hit the trails, then you will want to check out these articles: 9 Healthy Fastpacking Snacks & Ideas & The Ultimate Fastpacking Kit List.