Top 4 Summer Fastpacking Shoes | What I Use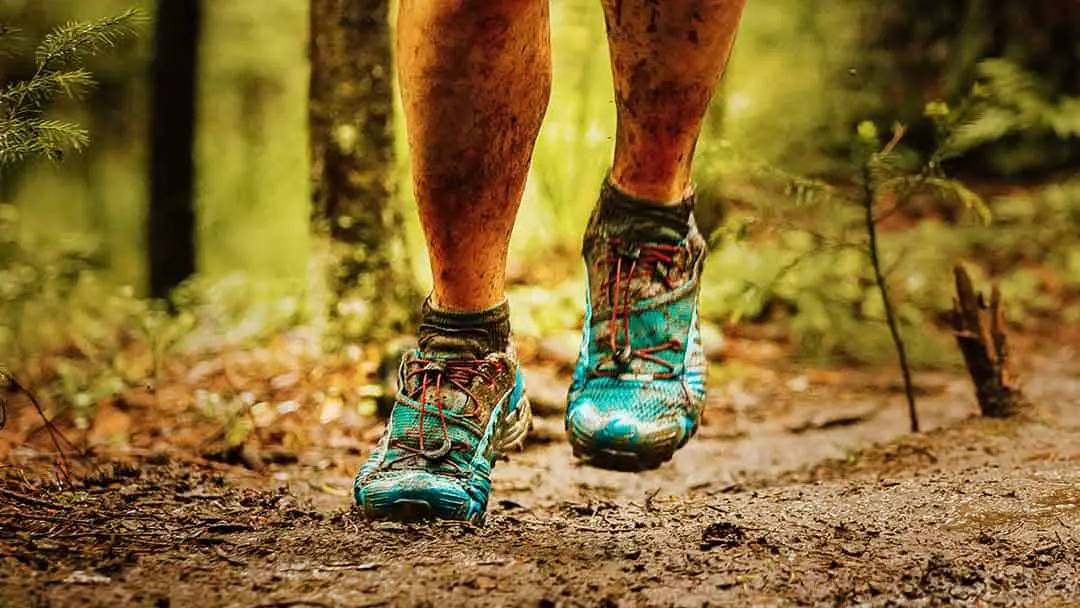 As an Amazon Associate we earn from qualifying purchases made on our website. If you make a purchase through links from this website, we may get a small share of the sale from Amazon and other similar affiliate programs. You can read our complete legal information for more details. By using this site, you agree the information contained here is for informational purposes only. For specific medical questions, consult your doctor. NO information on this site should be used to diagnose, treat, prevent or cure any disease or condition.
Shoes used for fastpacking are very similar to those used by trail runners.
Like runners, fastpackers will have a large selection of trail running shoes stashed around the house. 
Given the extensive preparation and long distances required in fastpacking, I'm assuming we go through even more trail running shoes than regular trail runners.
Here is a rundown of the footwear I have tried and liked enough to contemplate buying again. When it comes to trail running shoes, I want to mix things up by purchasing a few new pairs alongside my tried-and-true favorites.
The trails should be in good condition in the summer, so I like to wear minimalist / barefoot running shoes. They are zero drop, offer very little protection, and have wide toe boxes. 
I've been practicing with this, and it's great to have been so close to the trail when running or hiking. 
Oh yeah, and if it's winter where you are now, here are my personal favorite fastpacking shoes for cold and winter weather.
Top 4 Barefoot Style Fastpacking Shoes & What I Use
These are what I have used over the past few years and what I genuinely recommend to all those wishing to participate in fastpacking.
The Vivobarefoot Geo Racer Knit is an excellent option for runners who prefer less weight in their uppers. In fact, the knit upper is the primary selling point of this design.
The knit upper's airiness and portability are two features that particularly appeal to me. Because of its high breathability, it is an excellent option for fastpacking in good conditions.
The Active Sole on this model is 4mm thick, which is excellent for improving your foot's touch with the ground as you run. The insole is removable and changeable in this model, and the interior has been smoothed out, making it possible to customize the "cushioning" level, which I appreciate.
Plus, the Active Sole's hexagonal tread improves traction on roads, tracks, and more technical trails. So long as you're not running or hiking in soft mud, these shoes should provide adequate ground grip.
The Xero HFS is an efficient and versatile barefoot trainer designed to help your feet perform at their best on pavement, dirt paths, and in the weight room. 
The maker accurately describes the feel of walking in these minimalist shoes as "barefoot plus" due to the exceptionally flexible design that allows them to follow the natural movements of your feet readily. 
These lightweight, 5.5mm shoes have a unique rubber compound that allows for natural toe movement and traction and a breathable mesh forefoot that allows the toes to spread for more stability. 
All of this will likely appeal to people who wish to switch to barefoot running. Still, the HFS also includes a 3mm high-density EVA insole to provide some cushioning and ease the transition for those who are just starting to wear minimalist shoes.
It's one of the heaviest pairs of shoes we checked out at around 15 ounces while still being an ideal barefoot trainer. 
Despite being heavier than the other shoes I use, this is still amazingly light compared to many other trainers on the market. 
After some time on the trails, it becomes evident that the harsher terrain quickly beats and wears on the thin outsole because they were made specifically as road running shoes. 
However, I have found them to work well as trail running shoes as long as the terrain is not too harsh. The Xero HFS is an excellent multi-sport barefoot shoe for those in quest of a training shoe that can be used outside and in the gym.
The Vibram FiveFingers KSO EVO is here to prove that they are the best barefoot running shoes available. After spending a lot of time in FiveFinger shoes, I can see where they are coming from, but they do take a lot of getting used to.
Since each toe has its own little storage area, using them for fastpacking has been a truly remarkable experience. They may look a little geeky and weird, but keeping your toes spread improves your balance which is very important when fastpacking. 
Not only do they improve your balance, but they are really well made. They fit the shape of your foot well and are comfortable. 
You might think they are more likely to create blisters, especially around the toes, but the opposite is true. They are actually better than regular trail running shoes for blister protection.
The traction is superb in summer conditions. The Vibram grip is perfect, and I feel safe and secure on the trails. 
A thin, firm, and practically undetectable footbed provides us with the support we need to stand tall and confidently when fastpacking. There is a fine line between having a thin enough tread to keep things barefoot and protecting you, and this trainer gets the balance right. 
Even after long efforts in these trainers, your feet still feel fresh, but they are so different from what people typically use. It might be too big of a jump for some people to get used to, so I would only recommend them for some. 
One of my favorite pairs of barefoot running shoes is the Xero Shoes Zelen. This shoe performs admirably in cross-training regimes where the runner alternates between jogging and weightlifting, but they also work well on good-conditioned trails.
I appreciate the tire-like tread on the bottom of my Xero Shoes Zelen. This aspect seems grippy and gives you a great bite on different surfaces, making it ideal for faster sprint sessions and steady-state runs while fastpacking.
The upper of the Zelen allows for superior airflow, making it a more comfortable and efficient running shoe. This style is versatile enough to be worn with or without socks, making it an appealing option for those who want to experiment with barefoot running in warmer areas.
The Zelen is an excellent choice if you're in the market for a minimalist shoe for fastpacking and weightlifting. Overall, it's adaptable, long-lasting, and has a removable insole, making it a solid choice for any of these uses.
Conclusion
With all the different ways to fastpack, these excellent minimalist and barefoot running shoes are everything you need.
However, if you still need to own a pair of barefoot running shoes, you should take your time buying a pair and testing them before you embark on a 100-mile fastpacking trail expedition. 
Switching to barefoot shoes requires some acclimation time because you will likely need to modify your running form.
Going barefoot is a good idea in the long run. It's also a good idea to make sure you are prepared for your fatpacking excursion.
Check out these free lists and tidbits to make your trip more enjoyable: