11 Best California Bikepacking Routes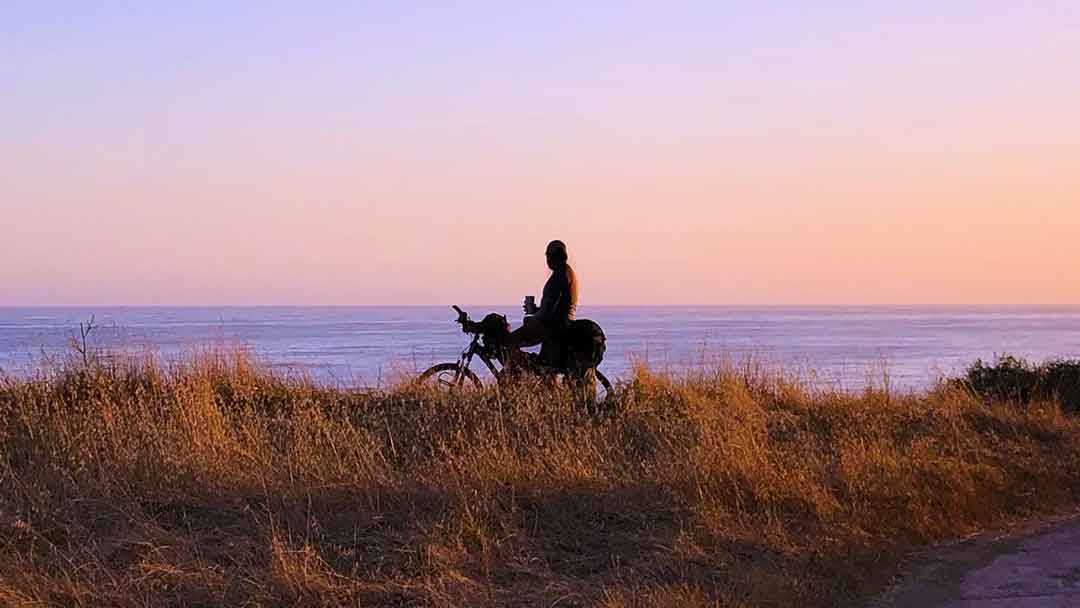 As an Amazon Associate we earn from qualifying purchases made on our website. If you make a purchase through links from this website, we may get a small share of the sale from Amazon and other similar affiliate programs. You can read our complete legal information for more details. By using this site, you agree the information contained here is for informational purposes only. For specific medical questions, consult your doctor. NO information on this site should be used to diagnose, treat, prevent or cure any disease or condition.
Bikepacking is an amazing experience everyone should try at least once! It takes travelers through remote wilderness areas while allowing them to indulge their pleasure with biking! 
California is an often forgotten state for anyone looking for an outdoor adventure. But this is unfortunate since it is home to some of the best natural terrain in the country. 
We've compiled some of the best routes for you to check out while in California! Keep reading to learn all about the best spots! 
What Should You Look For in the Best Bikepacking Route? 
There are several things to consider when selecting the best bikepacking route for yourself.
The main concern should be finding a route that meets your experience and capabilities. It's better to start off slowly rather than jump into a route that is above your abilities and get stuck in the wilderness. 
Narrowing your options is the first step to selecting your bikepacking route. To do this, ask yourself the following questions: 
What is my skill level? 
What is the weather? 
What is the terrain? 
Start with your personal skill set to answer the next two questions. You should spend a few months before your trip training and preparing your body for the excursion.
However, don't overdo it to push yourself to be ready for a path you are not in shape for.
Most experts will tell you overtraining can be dangerous and harmful to your body. It can cause strain on organs and lead to pulled or torn muscles. These injuries can take weeks, or sometimes months, to heal fully, so you'll be able to ride again for a while during the healing period. 
To get a gauge and improve your endurance, check this out: How To Cycle Long Distances Without Getting Tired.
If you're unsure of your fitness level, you can test it yourself at home. The best ways to test your fitness include the following methods: 
Resting heart rate 
Active heart rate 
Test core strength with planks 
Test arm strength with pushups or pull-ups
Test endurance by running a 12-minute mile 
Based on your score on these tests, you can assess the path you should take for your journey. 
Also, be sure you are eating the proper food while touring around for days on end.
We compiled the top 11 bikepacking paths for you. There are intense routes and beginner paths, so don't worry; there's something here for every skill level! Here are the best bikepacking paths by region:
Northern California
Northern California is separated from central California by the Cascade and Klamath Mountains. The rugged and rocky Sierra Nevada mountain range runs along most of the eastern boundaries of the State to the north. 
These mountains make the terrain rocky and wild. The northern part of the state is way more rural than the south.
This means these areas are more difficult, and you'll have to bring more supplies on your bike and be sure the weight is distributed properly because there's less access to shops and supermarkets. And speaking of supplies, check out our free printable PDF packing checklist.
Desolation Wilderness is a popular backpacking and camping area. However, bikepacking is very similar to backpacking, except you travel on a bike rather than on foot. 
Lake Tahoe is one of the main attractions of this route. But you'll also be immersed in the Sierra Nevada mountains! 
This path is not very long and may only take 1-3 days to complete depending on the path you take.
Although it's rugged and commonly traveled on foot, so be prepared for inclines and declines. Perhaps a full-suspension mountain bike makes sense here?
The Pohono Trail passes through the famous Yosemite! The trail takes adventurers down to the basin to experience the heights of the surrounding rock outcrops. 
If you're feeling particularly ambitious, you can travel up to the top of Glacier Point. This path is usually driven up by a car, but you can certainly experience it on your bike. 
It's a tough incline, so you'll want to start the trip early in the morning. 
Mendocino National Park is ideal for hiking, camping, and bikepacking. It's vast and thus makes a great spot for anyone hoping to make their own tailored path. 
Make sure you check out the National Parks Service Website before taking your trip. They announce updates about the weather and fire hazards on their message board. 
Unfortunately, right now, you cannot have campfires because of the dry underbrush.
We recommend bringing canned foods and an electric stove just in case you don't have a campfire to cook!
The Trans North California route is not for the faint of heart. This path treks 400 miles through the rocky northern terrain along the Sacramento River. 
Although there are no new announcements on this group's page for a 2023 trek, you can still take this path alone.
As is evident on their page, this path requires a lot of stamina and self-reliance. 
They advise their riders to be aware of bears and wild cats. While these animals don't usually pursue humans, they can be aggressive if you find yourself in their territory.
Maybe pack some bear spray?
Southern California 
Southern California is best known for its many cities and urban areas. However, a wide and beautiful wilderness is hidden between these vast cities and sprawling housing developments. 
Some of the best spots include the coniferous forests and coastal regions. Several mountain ranges, including the Santa Ana and the Laguna Mountains, spread through this area. 
Most of Southern California has a warm climate, especially Los Angeles. However, it can get much colder in the mountains due to the elevation reaching above 1,000 feet above sea level. 
The SoCal Desert trek was designed for counter-culture lovers who want to see some of the wildest parts of California.
The desert is a cleansing experience that immerses the rider in the starry skies and vast open spaces. 
This journey will take you to some of the most southern parts of California without taking you into Mexican territory!  You'll be able to see landmarks such as the massive Salton Sea. 
This lake is the largest in California. But unfortunately, you won't be able to try its waters because it has 50% more salt concentration than the ocean!
And speaking of water, did you read our bikepacking water storage guide?
You won't just see the desert, though, since the path starts in San Diego, so you'll be able to see the city life and the wilderness. 
The Stagecoach 400 has a little bit of everything! It was designed to harness the beauty of the surrounding area while giving adventurers a taste of San Diego. 
It's home to the Stagecoach 400 race, but the bikepacking path isn't designed to be completed in one day. This path will show you the deserts, canyons, rivers, and the ocean!
It's ideal for intermediate bikers since parts of the path are difficult. Although it's well worth the effort. 
Crystal Cove State Park has various paths available for all levels of bikers. You can find a complete list of the paths and hiking trails on the State Website. 
Most of these trails were designed for day hikes. However, you can easily harness these pathways for your bikepacking adventures. 
You, fortunately, won't need to purchase a permit or gain permission to camp on this site, according to the California State Park website. However, there aren't any official bathrooms or modern plumbing, so you'll have to use a pit toilet. 
Central California 
Most of Central California is composed of a valley region. This is usually referred to as the Great Valley or Great Valley Sequence. 
There are nineteen California counties in this valley stretching west of the Sierra Nevada mountains. It's a huge area and is predominantly made of farmland, which is irrigated with canals and reservoirs throughout the region. 
Don't underestimate his area, though! It's also home to several urban regions, including Turlock and Tulare. The Sierra Nevada Mountains are certainly the main attraction and make a wonderful backdrop to the natural scenery!  
Tahoe National Forest is a wonderful place to start your adventures. An overnight journey through the natural terrain takes travelers through predominantly unpaved and undeveloped areas. 
The two highlights of this path include the Stampede Reservoir and Sardine Peak. Stampede Reservoir is a beautiful, scenic lake region that is perfect for fishing and relaxation. 
Sardine Peak tops off just above 8,000 feet. It provides visitors with a perfect view of the surrounding valleys and waterways.
You'll probably want to get a photo or two because the view is amazing! Or maybe get some drone footage with a bikepacking recommended drone brand?
The Sierra Madra Road was made popular thanks to mountain biker Christopher Blevins. He documented his journey in a popular biking documentary. 
This terrain is certainly not for beginners. It includes desert regions and mountainous pathways. Unfortunately, the Santa Cruz route was largely wiped out by a forest fire in 2016 and is still prone to landslides. 
Economic development is taking place in the area, but it's still primarily made of shrubs and small trees. You'll love the chance to escape the hubbub of the city and feel the wilderness. 
The Anza-Hapaha Loop starts in Borrego Springs and loops back around, ending in this same pleasant town. It's a small, rustic-styled town that is housed within the largest state park in California. 
This route typically lasts for 2-3 days, and you'll experience camping under the stars in the desert. It's a perfect way to experience the outside world and all the natural scenery it has to offer. 
You'll also see much of the native plant life flourishing in the heart of these deserts! Some of the best samples you'll likely see include cactuses and desert flowers nestled in the arid desert landscape. 
The Tahoe Trail encompasses a massive blend of the Sierra Nevada and Tahoe River. You'll experience the snowy region of the mountains, which gives riders a brisk and cool area to challenge their abilities.  
This path also takes you to bike-only paved roads, allowing riders to experience a slower-paced ride through the forested area. 
However, only about 40% of this path is paved, so don't expect it to be an easy experience!
You can expect an uphill climb on much of this route, which means this might not be ideal for beginners! 
What Are Some Unique Traits About California's Terrain and Weather? 
California is a massive state that includes millions of miles of the United States. It comprises mountains, vast rivers, deserts, and the beautiful Pacific Ocean.
This causes the region to experience very hot weather along the coast but also has snow up in the Sierra Nevada Mountains. 
California is a State of extremes in many ways. It's extremely densely populated in the cities while housing vast stretches of completely undeveloped spaces of mountains and deserts. 
If you're planning to take a trip through the northern region of California, you should come prepared. This area is vastly undeveloped and has some of the highest altitudes. 
You should expect some snow with cold nights and slippery terrain. The area is not well developed, so you should always bring extra food and supplies in case you can't find a place to refuel every day. 
This isn't really the case for central and southern California. Most of these areas are at least semi-developed, with towns and urban areas scattered throughout southern and central California. 
Rain and dry spells are the most worrying weather in these areas (unless you're traveling in the Sierra Nevada Mountains, you can expect snow).
The long periods of no rain can cause the terrain to become very dry and loose. This is dangerous for two reasons: 
Forest fires 
Flash floods 
You won't want to be in the mountains or away from town during a mudslide or forest fire.
We recommend keeping an eye on the weather and warnings on the stage websites before taking your trip! 
I also recommend checking out this guide to Bike Touring in Ireland!
Closing Thoughts
California is best known for its cities and coastline. It's a breathtaking view and a great place to see celebrities and Hollywood. 
But that's not really what we're after when we go bikepacking, and that's the beauty of California! It is also home to some of the largest forests, lakes, and mountain ranges! 
If you want to disconnect and experience nature, California is an awesome place to check out! We hope this list helps you find the routes that are best for you! 
Free Biking Resources:
Sources: 
REI: How to Plan a Bikepacking Route
Bicycling: 7 Signs You're Riding Too Hard—and What to Do About It
Real Buzz: 10 Ways to Test Your Fitness
Library of Congress: The Name and the Geography
Back county Cows: Backpacking Fontanillis Lake To Dicks Peak — Desolation Wilderness, CA
Back County Cow: Backpacking Pohono Trail To Old Inspiration Point – Yosemite NP, CA
Google Maps: Mendocino National Forest
Wikipedia: Temperate coniferous forest
Bikepacking: THE SOCAL DESERT RAMBLE, SOUTHERN CALIFORNIA
California Department of Fish and Wildlife: Background Information on the Salton Sea
Bikepacking: THE STAGECOACH 400 BIKEPACKING ROUTE
SoCal Hiker: Inside Crystal Cove State Park
California State Park: Crystal Cove
PARKS.CA: Hike or Bike Campsites
NYTIMES: How to Build a Latrine
Bikepacking: SARDINE LOOKOUT TOWER OVERNIGHTER
Bikepacking: The Long Traverse (FILM)