The Top 2 Drones for Bike Touring Video Footage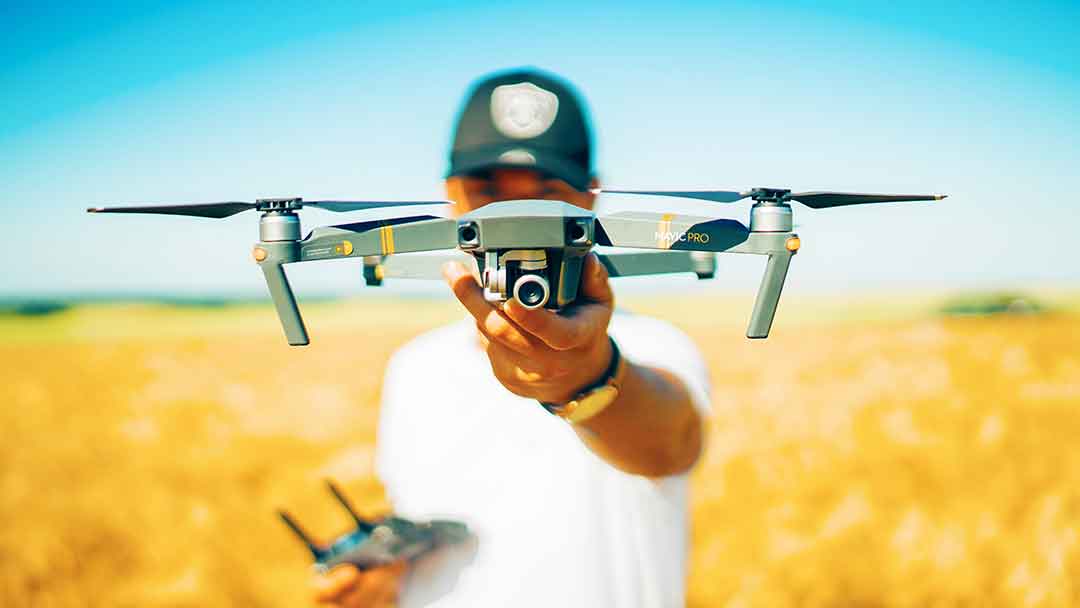 As an Amazon Associate we earn from qualifying purchases made on our website. If you make a purchase through links from this website, we may get a small share of the sale from Amazon and other similar affiliate programs. You can read our complete legal information for more details. By using this site, you agree the information contained here is for informational purposes only. For specific medical questions, consult your doctor. NO information on this site should be used to diagnose, treat, prevent or cure any disease or condition.
As a biking enthusiast, one of the most incredible benefits we experience is immersing ourselves in nature and seeing sights that a plane or car would not allow.
As a certified drone expert and biker, I'm going to share my opinions on the top 2 drones you can use to take amazing videos while Bike Touring!
Plus, this article explains how to bike with a drone, what you will need, things you should consider, and how to capture the perfect shot of your outdoor adventures from above!
What kinds of drones are best for bike touring?
The future is here. In the past, where one would have needed an entire camera crew, editors, and maybe even a helicopter; today, we can capture the same footage, even on a solo ride!
This is made possible with a drone feature called tracking. Drones with the tracking feature can be set to follow you as you ride, capturing everything from above and avoiding obstacles without any human intervention. How cool is that?
How the tracking feature works
The newer drones have sensors and cameras that detect the environment as it changes.
Once you have launched your drone, these cameras can be set to track and follow as you move about actively. At the same time, they detect and avoid obstacles, such as trees and hills.
Best drones for activity tracking
There are two main competitors for this, the DJI Mavic 3 and the Skydio 2, both of which have the gear to get the job done and unique strengths and weaknesses.
The Skydio 2 was made specifically for the autonomous tracking of sports like mountain biking and is known for its innovation and precision.
With six cameras dedicated to tracking and obstacle avoidance, it takes the spot as the quintessential sports tracking drone to date.
It is friendly to beginners and reliable, a great all-around choice to get started.
The Mavic 3, made by DJI, one of the most respected drone producers in the industry, is top of the line, coming with all the bells and whistles, including advanced tracking.
Although this is more of an additional feature, when compared to the drone's primary purpose, to get the best possible footage.
This is why the Mavic 3 is a common choice of professional photographers, offering much more creative expression of images and settings to make the shot look as excellent as possible.
How can I control the drones from my bike?
The Skydio 2 utilizes a beacon that can be carried with you as your ride. This relieves you of having to keep track of a controller and helps the drone to keep track of you, even when an obstacle temporarily blocks you from view.
If you'd like, you can also buy a traditional controller, which would offer more control. The third option is to operate it specifically from your phone.
The Mavic 3 comes, as most standard drones do, with a controller that hooks into your smartphone for viewing.
This gives you more control over its maneuvers, footage, and multiple tracking modes to help creatively capture your biking adventure!
Because the Mavic 3 is operated from a controller, you will need to buy a mount for your bike, which is about 20$ on Amazon.
They make them precisely to fit DJI controllers as well.
Once installed, you can choose your drone's tracking style and be able to glance down now and again to ensure your drone is keeping up!
A general rule and warning are to be sure you distribute all the weight on your bike properly, especially with weight in the handlebar area. Improper weight distribution can really increase your chances of crashing.
Camera quality
The Skydio 2 records in 4k footage with 60fps. This will suffice to get pretty stunning footage providing the lighting is good.
The DJI Mavic 3 has it beat here with up to 5.1k footage and 120fps for cinematic-grade video.
Portability
The Skydio2 will not fold or fit into a smaller backpack, which can be an issue for some who like to travel light, though it does come in a carrying case you could fit in a larger bag.
The Mavic 3, like most DJI drones, folds up, so it can be transported in a small backpack, which is pretty handy for when you are away from your car.
Comparing active tracking capabilities
The Skydio 2 takes the lead on obstacle avoidance. In most instances, it will smartly avoid obstacles and be less likely to lose you in the face of obstruction, let's say, if you ride through a tunnel.
Keep in mind though it has yet to be crash-proofed.
Remember that auto-tracking in drones is still less than a decade old, so there are bound to be some bugs still here and there.
It also has two settings for the following styles to choose from.
The Mavic 3 will capture your ride in a higher-quality video in one of the following settings.
If you ride behind an obstruction for too long, it can sometimes lose track of you.
However, it is okay for shorter blind spots. There have been reports of crashes with both, although in heavily obstructed areas is where the DJI Mavic 3 has more trouble.
Still, it would be best to be careful with both, depending on the level of general obstruction.
Flight time
Flight time has been an issue as drones have progressed, and it is still being improved upon seemingly every year.
The Skydio 2 has a flight time of about 27 minutes, while the DJI MAVIC 3 is closer to 40 minutes.
There are accessories you can purchase to fly for extended periods, which I will list below.
How to fly for more extended periods
Drones are powered by batteries that you replace and recharge. Buy one if your drone kit does not come with a second battery.
Bring a portable charger and the drone battery charger, and connect.
While I am flying the drones, I have the second battery charging. This way, I only need to fly it back every 30 minutes and switch the battery. This allows me to fly as long as necessary.
However, this will only make sense when bike touring if you have a portable power bank or solar energy charger.
Price ranges
New technology with new features does end up quickly adding up in costs. It can put your necessary funds into the $1000 to $2000 range for a drone with a tracking feature, obstacle avoidance, and high-quality video.
The Skydio 2 comes in at around $1000, while the DJI Mavic 3 (depending on the accessories you buy it with) can quickly approach the $2000 mark.
For anyone on a budget, I will provide a cheaper alternative that can be accomplished with a couple of hundred dollars and a friend.
Getting Drone footage on a budget
The joy of capturing the perfect action shot from above while riding below can be achieved just as well with this method, so here we go.
Pair up with a friend, and find a used starter drone online that may not have all the bells and whistles but captures high-quality video.
A great starter drone would be the DJI Mini 2, coming with a controller that plugs into your smartphone for the view and 4k video.
This is an excellent option for the money. You can pick one up used on eBay for about $350 and have your friend follow you manually to get the footage.
Laws to consider
While it does vary state by state, in all 50 states, drone flights are subject to the authority of the FAA.
The Federal aviation administration enforces regulations on all things that fly, which includes drones.
Generally, recreational drone flyers who own drones over 250 grams in weight will have to pay 5$ to get them registered as a formality.
This is actually part of why I recommend the DJI mini 2 for manual tracking flights as the budget option, as it weighs in at 249 grams, meaning it does not need to be registered like its larger counterpart.
Although, you do not need to take the FAA Pt. 107 exams unless you intend to sell photos or videos from your drone.
What it all means
In conclusion, I will say that having aerial footage of your outdoor adventures on your bike is crazy fun, and the drones I have mentioned are excellent picks for the job at hand.
Now it falls onto the individual's situation as to which would work best for you.
What is more important, high-quality video or ease of use? Having more creative options and settings or hands-off tracking without a controller mount?
Answer these questions, get some practice in, and you should be able to capture captivating videos of your adventures from the best view of all, from the sky!
Free Biking Resources