How Much Does The Carnivore Diet Cost? A Surprising Breakdown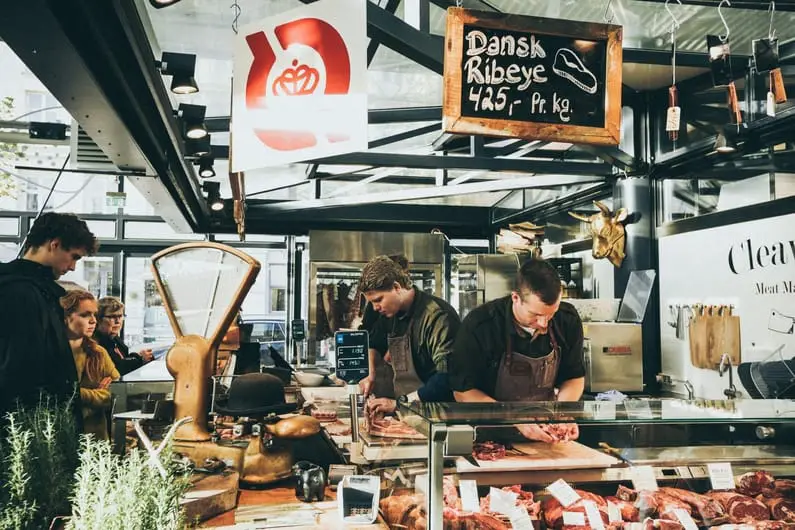 As an Amazon Associate we earn from qualifying purchases made on our website. If you make a purchase through links from this website, we may get a small share of the sale from Amazon and other similar affiliate programs. You can read our complete legal information for more details. By using this site, you agree the information contained here is for informational purposes only. For specific medical questions, consult your doctor. NO information on this site should be used to diagnose, treat, prevent or cure any disease or condition.
You're ready to go on the Carnivore Diet but you think it may be too expensive! In this post, we look at the average costs associated with the diet and show that it's actually affordable.
We pull meat prices from big grocery stores, small-time butchers, subscription meat box sellers, online rancher powerhouses and even whole cow buys to compare and see which way of going carnivore is the most affordable.
In the end, we break down the average daily cost for each store if you go full carnivore!
This article is for both the newbie carnivore dieter and the seasoned veteran as we will be showing the basics as well as some extra advice on how to keep the costs down.
Most people when they hear about an all-meat diet they jump to the conclusion that it's super expensive and is gonna make them go bankrupt especially when looking at cost per pound as it's usually higher than veggies and other products.
But when you break it down and compare the carnivore diet to other diets or eating lifestyles it is actually one of the more affordable options even most likely cheaper than the Atkins diet even most likely cheaper than the Atkins diet .
Can it be more affordable than Keto, Vegetarian or Vegan?
Absolutely. This is a bit of a generalization but take a look at all the extra ingredients you end up purchasing on those diets. For instance, you are buying expensive avocados, cashew and almond butters, cacao products, oils, teas, herbs, seasonings, kombucha, raw snack like cookies and brownies and don't get me started on the supplements.
The supplement game is a major profit center and I'm sure most are afraid to see what they are actually spending on vitamins, mushroom teas, elixirs, MCT oils, protein powders and the rest of the stuff you find in the health food store or supplement aisle.
Don't get me wrong I'm not even close to saying that stuff is bad I'm just saying with a little discipline and an open mind you just may be able to mitigate the costs and create a carnivorous lifestyle that you can afford.
Maybe cut back on supplements and go strong with the meats???
If you are new to the diet most experienced carnivore people will suggest eating the leaner cuts of meat and then adding in more of the fattier cuts after a few weeks or when your body is fat adapted. If going high fat off the bat you may experience some digestion issues and Keto flu symptoms.
Also, there is a theory that your body will need to increase its bile production and stomach acids. Over time your fat tolerance should increase.
In the book "The Carnivore Diet" by Dr. Shawn Baker he mentions that some people have used both Ox Bile and HCI/HCL to aid their digestion issues. Especially while in the adaptation period. These are the two brands I use:
Ancestral Supplements Ox Bile (This link may get you a 10% discount)
The reason I mention this is because you will see the fattier cuts and ground beef are the more affordable options so in theory and in time your costs should be lessened.
A way to ease in is by starting with the different ratios of fat in ground beef. For instance, start off with a 90/10 for a week, then an 85/15 and then an 80/20 and then a 70/30 and so on.
Another point I should make is that the fattier cuts make you more satiated and sometimes you just end up eating less meat based on pounds.
You will see that you will get full quickly on a 70/30 burger as compared to a 90/10.
Quick note, I'll be using beef as an example the most because it is what I personally eat the most and also the more nutritious of the meats, except maybe lamb, I just heard lamb has major nutrition potency.
Trying this diet by eating only chicken or other lower-fat meat products won't work. You need the fatty meat!
Let's take a look at costs per pound from 4 different types of stores. I basically went to my closest grocery stores and butcher to price the differences in meat costs.
This was done in Los Angeles, CA but I believe it should be comparable to other US cities, perhaps a tad higher. I know other countries have huge fluctuations/differences in meat prices so this section won't apply but later on, I do have some universal advice that may work for you.
Seasonings
Seasonings are a touchy subject on a carnivore diet. Some people can tolerate them and others not so much. The one thing I have noticed is that successful carnivores use a lot of salt. In fact, Dr. Paul Saladino mentions in his book, "The Carnivore Code" that we should be shooting for 6-10 grams per day.
The only salt I use is from Redmond. They source their salt from an ancient sea bed in Utah. This salt is superior in that it's load with minerals and doesn't contain microplastics or toxins which can be found from sea salt that's procured from the ocean.
Here is the link to purchase. You can use the coupon code WILD at checkout to get a 15% discount. (sometimes the ink will do it automatically.)
First Stop: Ralphs
Ralph's is a major grocery chain in California, (maybe in other states?), kind of comparable to other major chains like SafeWay, Albertsons, Publix, etc.
Here is snapshot some of their meat prices.
Beef Top Sirloin Steak 9.99/lb.
Prime Boneless Ribeye 14.97/lb.
Ribeye Steak with Bone 9.99/lb.
Boneless New York Steak 9.99/lb.
Boneless Ribeye Steak 9.99/lb.
Boneless Top Loin Steak 9.99/lb.
Boneless Tri-Tip 6.99/lb.
Top Round Steak 3.77/lb.
Seasoned Ribeye Roast 9.99/lb.
Boneless London Broil Steak 3.77/lb.
Boneless Top Round Roast 3.77/lb.
Rib Roast Bone-In 9.99/lb.
Beef Bone Marrow Bones 3.99/lb.
Boneless Beef for Stew 5.99/lb.
Beef Chuck Neck Bones 3.49/lb.
Private Selection Angus Ground Beef Sirloin 90/10 6.99/lb.
Home Style Beef Patties 80/20 4.99/lb.
Kroger Brand Ground Beef 80/20 4.33/lb.
Private Selection Angus Beef 90/10 6.99/lb.
Mishima Brand Reserve Ground Wagyu Beef 6.99/lb.
Simple Truth Organic Grass-Fed Ground Beef 90/10 6.99/lb. (Was on sale for 6.99/lb.)
Simple Truth Organic Beef Strip Steak 9.99/10 ounces
Simple Truth Angus Beef Flat Iron Steak 8.99/10 ounces
Simple Truth Organic Grass-Fed Ground Beef 85/15 6.45/lb.
Second Stop: Whole Foods
Whole foods is a step up from your conventional grocery store chains with a wider selection and emphasis on so-called healthy food. Because they are now owned by Amazon they do have Amazon Prime member sales that you can take advantage of.
Packaged Organic Step 4 Country Natural Ground Beef 85/15 4.99/lb.
Grass-Fed Organic Beef Stew Meat 11.99/lb.
Grass-Fed Organic Bone-in Beef Short Ribs 9.99/lb.
Grass-Fed Organic Beef Flap Meat 15.99/lb.
Grass-Fed Organic Top Sirloin Steak 14.99/lb.
Grass-Fed Organic Beef Loin Tenderloin Roast 33.99/lb.
Grass-Fed Organic Boneless New York Strip 19.99/lb.
Grass-Fed Organic Ground Beef 85/15 8.99/lb.
Grass-Fed Organic Ground Beef 93/7 11.99/lb.
Pasture Raised Ground 85/15 4.49/lb. (Was on sale by 50 cents.)
Pasture-Raised Beef Skirt Steak 9.99/lb.
Pasture-Raised Beef Top Sirloin Steak 9.99/lb.
Pasture-Raised London Broil Round Steak 7.99/lb.
Porterhouse Steak 13.99/lb.
Boneless Ribeye Steak 13.99/lb.
Prime Beef New York Strip Steak 19.99/lb.
Pasture-Raised Flat Iron Steak 9.99/lb.
Dry-aged Boneless Beef New York Strip Steak 19.95/lb.
Beef Tenderloin Roast 29.99/lb.
Pasture-Raised Beef Short Ribs 8.99/lb.
Pasture-Raised Boneless Beef Chuck Steak 4.99/lb.
Beef chuck Stew Meat 5.99/lb.
Pasture-Raised Boneless Beef Chuck Roast 4.99/lb.
Third Stop: Trader Joes
Trader Joes is a smaller chain of grocery stores with a hint toward healthier foods but at lower affordable prices.
They didn't have a large selection or variety of beef so I added some other meats to the list but you'll get an idea of costs.
Grass-Fed Organic Sirloin Steak 7.49/6 ounces
Angus Filet Mignon 23.99/lb.
Angus Ground Beef 85/15 8.49/lb.
Grass-Fed Ground Beef 85/15 5.99/lb.
Beef Ribeye Steak 9.99/lb.
Grass-Fed Organic Ribeye Steak 13.49/10 ounces
Premium Angus Ribeye Steak 13.99/lb.
Angus Beef Stew Meat 9.99/lb.
Atkins Ranch Grass Fed Lamb Loin Chops 11.49/lb.
Boneless Lamb Leg 8.49/lb.
Ground Pork 85/15 4.99/lb.
Pork Loin Chops 6.99/lb.
Loin Roast 5.49/lb.
Pork Loin Chops 6.49/lb.
Pork Tenderloin 5.99/lb.
Fourth Stop: Belcampo
Belcampo is a butcher and restaurant wrapped in one. This is what I would consider premium meat as they source the meat from their own ranch and it's all grass-fed and pastured.
They are the definition of sustainability and conscious ranching. But with high quality comes higher prices.
If you can afford it this is the type of butcher to shop from plus you're supporting environmentally friendly ranching. If you really wanna go deep they offer a one-week Bootcamp at their ranch which teaches ranching practices as well as how to cook meat dishes and BBQ.
Boneless Ribeye 39.99/lb.
New York Strip Boneless 39.99/lb.
Short Ribs English Cut Flank 10.99/lb.
Ground Beef 80/20 7.00/lb.
Pork Chops Roast Boneless 22.99/lb.
Chicken Breast Boneless 22.99/lb.
Lamb Marquez Sausage 15.99/lb.
Sirloin Tip/Ball Tip 15.99/lb.
Chicken Hind Quarter 9.99/lb.
Whole Chicken 6.99/lb.
Paleo Breakfast sausages 13.99/lb.
Meaty Subscription Based Boxes
Right now there are few different subscription-style services that deliver curated or custom picked varieties of meat. The one that seems to be more popular today is Butcher Box.
Butcher Box in a nutshell sources meat from a variety of grass-fed, humane, and more environmentally-friendly farmers.
All the beef is grass-fed, without the use of hormones. Their pork is humanely raised without hormones and the chicken is pastured and humanely raised as well.
They have a variety of box options that differ in weight, meat selection, type of cuts, etc. which are then shipped frozen in vacuum-sealed packaging within a cardboard box which happens to use environmental-friendly insulation and dry ice. Really cool!
The Curated Box $129
According to Butcher Box, its 24 meals generally contain 8-11 pounds of meat. Here is an example of what you would find in it:
Two Chuck Roasts 2.25 lbs.
One Flank Steak 16 oz.
Two Ribeye Steaks 10 oz. (each)
Two Tri-Tip Steak 12 oz. (each)
Two Ground Beef Packages 1 lb. (each)
Roughly this comes out to be $14/15 per pound of meat give or take. Also, we should note that they have unique sales, for instance, at the time of writing if you signed up for a box you would get 2 pounds of Wild Caught Sockeye Salmon for FREE and a few months back they did a two-pack of free bacon.
Butcher Box has different boxes ranging from their curated boxes to their custom boxes and then of course you can get them upgraded to "big" boxes that contain more meat. Here's the quick breakdown.
Classic Curated box is 8-11 lbs. of meat averaging 24 meals=$129
The BIG curated box 16-22 lbs. of meat averaging 48 meals=$238
Classic Custom Box, (you pick the cuts), is 9-14 lbs. averaging 30 meals=$149
Classic Custom BIG Box, (you pick the cuts), is 18-26 lbs. averaging 60 meals=$270
The pros of a subscription-based service is that it saves you time from having to go shopping and deal with crowds of people, (that's if you live in a major city), so it kind of justifies the higher cost per pound.
Plus you are getting high-quality meats. The downside is that it is pricey and if your carnivore diet is primarily ground beef you are unable to customize the boxes to be a majority.
I look at subscription boxes as a supplement to your way of shopping not the main go to as you will find yourself on average consuming ground beef the most.
Online Meat Shopping
Online meat shopping has major benefits. You have a large variety, you can order the less prominent meat selections like organ meat and liverwurst, and you can double down on coupons or buy in bulk.
Let's take a quick look at online meat powerhouse U.S. Wellness Meats prices. First off be warned that if shopping from them you will need to order a minimum of 7 lbs of product that is at least $75 in value. The shipping is free but there is a $9.50 handling fee.
Sample of Costs
Beef Ribeye 15 oz. $23.65
New York Strip Steak 14 oz. $19.99
Tenderloin Filet Mignon 6 oz. $16.55
T-Bone Steak 1 lb. $22.95
Bulk Ground Beef 75/25 25 lbs. 7.48/lb.
Beef Marrow Bone Broth 14 oz. $9.90
Beef Liverwurst 1 lb. $11.35
Beef Braunschweiger 1 lb. $11.35
Beef Heart 1 lb. $9.86
Beef Liver 1 lb. $8.42
Beef Kidney 1 lb. $6.70
Just Buy The Whole Animal
The ultimate way to go carnivore and to save money, in the long run, is to purchase a full cow or pig. The savings are tremendous and if you have a non defrost freezer you could potentially have meat for half to a full year, depending on consumption of course.
Also you don't need to buy the full cow, they come in 1/8, 1/4, 1/2 and full. You can also find a friend and partner up!
Here is a very general breakdown of a grass-fed organic certified ranch costs for a full cow.
The average hanging weight of a full cow is 500 pounds. (Hanging weight is basically all the meat minus blood, head, etc.)
A whole cow costs with butcher fees approximately $3200 to $4400. We are looking at total costs of 8.80 per pound on the high end and $6.40 per pound on the low end.
(You can get even cheaper if you purchase from an uncertified organic farm or ranch or non grass-fed.)
Non grass-fed beef is fattier but they are usually fed grain and soy which depending on who you talk is controversial from a health and environmental perspective.
When you buy the full cow you are given the choice of cuts you want and how thick you want your steaks, so there is a certain amount of customization. Depending on your cut selection you end up with around 100 to 150 pounds of ground beef too.
This is by the far the best deal because you are getting all the cuts like ribeye steaks, filets, flanks, strips, and briskets plus organ meats. This is a true nose-to-tail carnivore diet approach.
How much freezer space do you need?
The general rule of thumb is one cubic foot of space per every 35-40 pounds of packaged meat so a quarter of a cow will fit into a standard freezer chest that has five to seven cubic feet.
Freezer Warning: Auto Defrost or Not???
Be careful what type of freezer you use to store your packaged meat. There is a huge difference between an auto defrost freezer, most likely like the one in your kitchen, and a non defrost freezer.
The auto defrost actually has heating coils in its walls which are used to heat up, thaw the ice and then freeze again. Why the sucks is that if you have meat next to the walls it's basically doing the same thing. Your meat is thawing and defrosting over and over again which means it will not last as long and if not eaten within 3 or so months it may spoil.
If you are going big and getting that full cow and expect to keep it frozen through the year you will need to invest in a non-defrosting chest-style freezer which is very affordable. Investing in a non-defrosting freezer will pay for itself over time.
Another Way To Keep Meat Longer
When you buy your cow the butcher will generally give you the option of standard paper style packaging or vacuum-sealed. The vacuum-sealed will last longer but there is an increase in price due to material and the time it takes to vacuum seal everything.
Your call though, if you feel you will go through your meat within a few months and have a non-defrosting freezer the standard packaging should be fine if not get the vacuum seal and protect your investment.
Livestock Auctions!
Another fun way to purchase your meat is by going to a livestock auction. You will get to see the quality of the cow, pig, goat or chickens you are buying and bid up to where you are comfortable at.
A lot of the auctions help support programs like 4H which in turn help ranchers and their children with education and best practices. Plus its a fun and exciting experience.
Carnivore Diet Cost Breakdowns for The Conventional Shoppers
Let's look at what it costs to shop are normal stores, the non-online stores. For the purpose of averaging daily costs let's assume you need to eat 2 pounds of meat a day.
How much is this going to run you? Let's look at 1/4 pound of ribeye steak and the remainder 1 and 3/4 pounds of ground beef and see what the daily cost will be at the above-mentioned stores.
AVERAGE COST PER DAY
Ralphs
Non-Grass Fed= $12.47/day
Grass Fed= $16.73/day
Whole Foods
Non-Grass Fed= $12.25/day
Grass Fed= $21.98/day
Trader Joes
Non Grass Fed= $17.36/day (more expensive because the ground beef was Angus at 8.99/lb.)
Grass Fed= $14.23/day
Belcampo
Grass Fed Only= $22.25/day
The costs per day are just a guide as sometimes you will spend more and go all out on some fresh cut ribeyes and then somedays you may stick to some very affordable 70/30 ground beef.
The main point though is that this lifestyle is affordable! You will find yourself eating out a lot less and you no longer need to go buy a coffee or sugar-heavy latte blended special.
And once again vitamins and supplements are very expensive and you just may not need as many plus think about the health care costs associated with poor health. Can you afford not to go carnivore and eat healthy?
Carnivorous Motivation
Looking for some extra motivation. Here is what I suggest. Book me as your 1 on 1 personal carnivore diet coach. I work with MeatRX and you can book a session with me here.
Also, check out the MeatRX testimonials. You will see some amazing transformations!
Read some awesome books and learn to cook better carnivore diet meals. I use these books frequesntly:
The Carnivore Cookbook by Jessica Haggard (For a limited time use ANDY5 at checkout for $5.00 off)
The Carnivore Diet by Dr. Shawn Baker (Bookshop.org link, help support smaller booksellers) or Amazon link
The Carnivore Code by Dr. Paul Saladino (Bookshop.org link, help support smaller booksellers) or Amazon link
Enjoy and please share this if someone is on the fence about the affordability of the Carnivore Diet.
Disclaimer: I'm not a doctor. Consult with and ask your doctor about any diet or medical-related questions. No information on this site should be used to diagnose, treat, prevent, or cure any disease or condition.