The 4 Best Ultralight Fastpacking Backpacks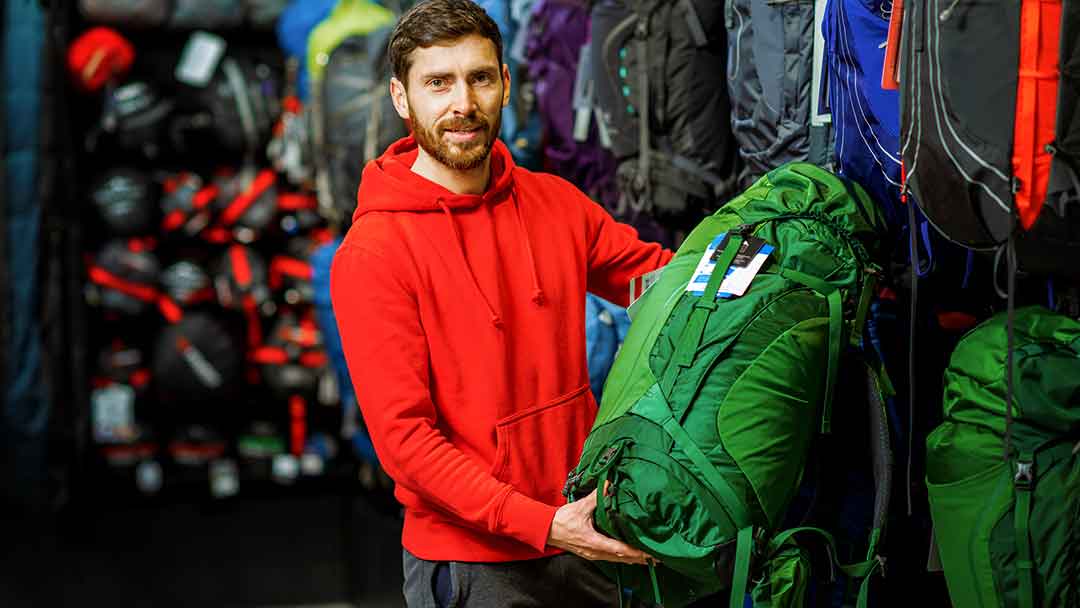 As an Amazon Associate we earn from qualifying purchases made on our website. If you make a purchase through links from this website, we may get a small share of the sale from Amazon and other similar affiliate programs. You can read our complete legal information for more details. By using this site, you agree the information contained here is for informational purposes only. For specific medical questions, consult your doctor. NO information on this site should be used to diagnose, treat, prevent or cure any disease or condition.
In this article, I will discuss the many different types of fastpacking bags on the market and tell you which ones are the best. 
Having done my fair share of fastpacking, I can attest to the importance of a sturdy and dependable pack for transporting your gear while you're on the move. I'm providing you with the most durable, lightweight, and functional options for your next trip!
Ultra-light Fastpacking
Fastpacking is a hybrid of running and backpacking in which the objective is to cover a great distance quickly while carrying a minimal amount of gear. 
It's a great way to cover more ground and see more sights in less time. The success of a fastpacking journey hinges on many factors, but none more so than your choice of equipment, including the bag you use to transport your belongings.
Whether you're a seasoned veteran or just getting started, finding the right backpack for fastpacking can be daunting. With so many options available, it might take a lot of work to determine which will best meet your requirements. 
As a result, I've gone ahead and done the legwork to compile a list of the most appealing readily available options for you to consider:
It provides a secure fit without stifling air circulation, which keeps the load from bouncing around.
The pack's vest compartments for stowing gear are fantastic. Each shoulder strap has two pockets for a total of four compartments. 
The two included soft flasks are 500 ml in capacity, and they may be stored in one of the pack's stretchy pockets. There are two stretch pockets in front of them, one with a zipper on the side. 
You may store various items in these pockets, including snacks, a phone, gloves, and a buff. 
Lip balm, sunscreen, and other gels can be stored in the uppermost fourth pocket of the bag's shoulder strap. You can also store other small items in this pocket. 
The Shoulder strap compartments mean we can go all day without digging through the main compartment to find anything else we might need.
The XA 25 also excels due to its well-thought-out design and form. 
This pack is excellent for those with a narrow waist because it tapers more than any other option here. 
The unique shape of the XA 25 is a big reason for its exceptional performance.
The Salomon XA 25 is enticing since it is a fastpack made by a reputable company, is easily run with, weighs next to nothing, and is reasonably priced.
I know we are talking backpacks, but when you are done with this article, you can check out my top six tents I use when fastpacking here.
The Arc Blast's fastpacking potential is impressive, especially given that it looks like a standard lightweight backpack. 
Despite its ultra-low weight, solid and water-resistant Cuben Fiber construction, and long lifespan, it is one of the most comfortable backpacks I have tested.
The backpack's straps are sized just for the job at hand, allowing you to wear it comfortably across your shoulders, hips, and back. 
The Arc Blast's air gap is situated in the back due to the carbon fiber construction of its frame. This feature adds only a few ounces to the pack, making carrying loads over 20 pounds much more convenient and comfortable.
The side pockets are easily accessible; you only have to make a little extra effort. The shoulder straps are fully adjustable to accommodate users of varying torso heights. 
This pack's water resistance is much improved due to the fact that its seams and connection points are taped.
There are removable, detachable shoulder and waist storage compartments. 
The pouches' large upper pockets are designed to connect with one another and secure, and they may fit a water bottle or thermos inside. A 3.5-liter chest pack is another accessory choice, and it's a favorite of photographers and adventure racers.
The Pa'lante is a stylish bag made to a high standard. The bag can withstand a lot of wear and tear, is easy to carry, and has comfortable, well-organized sections. 
It will make everyone green with envy if you decide to fastpack the entire trip with this bag. 
Your base weight should be low enough that you can cruise for as many miles as feasible while still feeling comfortable, given the weather, and if your gear list is adequately established.
The bag's small capacity and the fact that it's not widely sold are the two main drawbacks. 
It's possible that the Sol-Z Pad "frame" bag will feel too small if you plan to stay on the trail for longer than four days worth of time while carrying all of your gear, drink, and food. 
To be clear, this bag is fantastic for someone who already has the ideal fastpack setup. 
Pa'lante only produces a meager batch of bags per year, and they always sell out in a matter of hours.
I should also mention you are going to want to include an Ultralight pillow for your excursions…here are my top Ultralight 5 brands.
Constructionally, the Fastpack 30 is a hybrid design. 
A big main compartment with a roll-top closure and three stretch dump pockets along the front and side, and a roll-top closure characterizes its straightforward UL pack design. 
You will also receive the running pack's front storage section, which is convenient for storing and quickly accessing necessities like water and snacks. 
Additional features include a detachable webbing hip belt for added support for bulkier items and a side-zipper pocket for quick access to the main compartment. 
Aside from the primary door, you can also gain entrance to the main storage area via either of these features. 
Fastpack 30's lightweight and maneuverable design are commended, but users are cautioned to pack as lightly as possible and handle the pack's fragile materials with care.
Final Thoughts
Overall, it's clear that proper gear is required for any fastpacking endeavor. The quality and suitability of the bag you purchase can make or break your vacation, so be picky.
I'm so picky that I created this super picky gear list to help you make a few good decisions about your future fastpacking purchases.  
There is a wide variety of fastpacking backpacks available, from those that are lightweight to those that include extra space and organization options. 
Remember what's most essential to you and your loved ones when organizing your trip. The two most crucial guidelines are to pack as little as possible and to take full advantage of your time outside. Have a good time fastpacking!