Fastpacking in Winter | Is it Dangerous?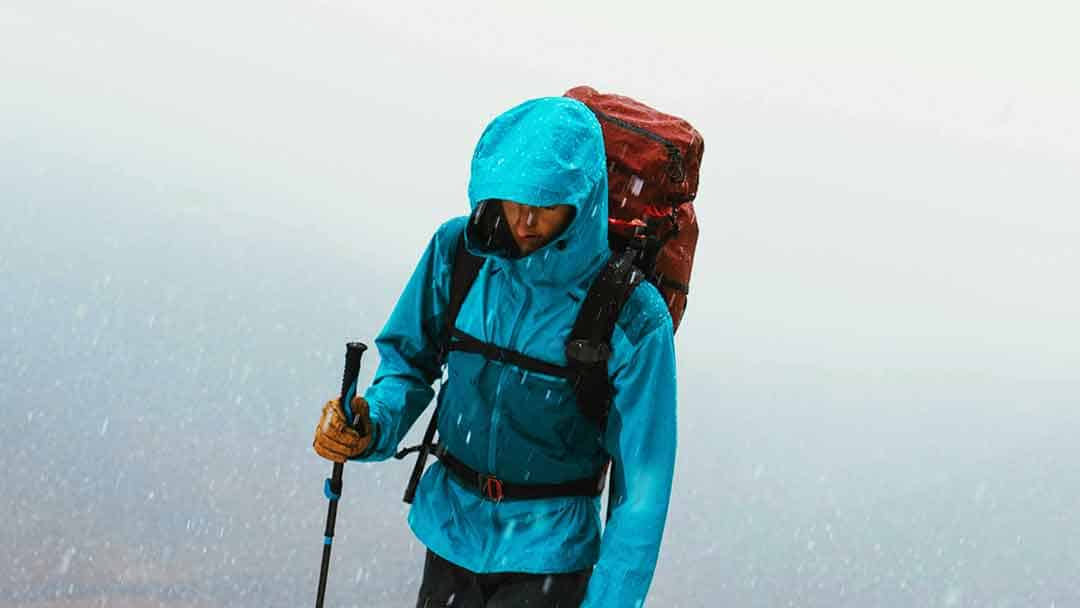 As an Amazon Associate we earn from qualifying purchases made on our website. If you make a purchase through links from this website, we may get a small share of the sale from Amazon and other similar affiliate programs. You can read our complete legal information for more details. By using this site, you agree the information contained here is for informational purposes only. For specific medical questions, consult your doctor. NO information on this site should be used to diagnose, treat, prevent or cure any disease or condition.
Since fastpacking entails covering more ground at a faster pace than regular hiking, it is more dangerous in the winter than in the summer.
Hopefully, the reasons for this are apparent to you. There will be fewer people on the trails to help you if you get stuck, the trails themselves will be in a worse state, and river crossings will be more dangerous. It will also be colder (you can be vulnerable to frostbite and hypothermia), and the days will be shorter.
Like winter running or trekking, you need a few more layers and some gear designed for the cold. Fastpacking can be done during the winter, but it will necessitate more preparation and a more extensive list of necessary items.
Plan plan plan
Fast-packing carries a greater degree of danger than hiking because you are moving further and faster. 
Obviously, geography plays a role. Fastpacking during the winter season in the Arctic is a lot different than winter in Arizona…get what I mean?
There will be less room for error because you have less in your kit, and much of your day will involve running.
If you take the time to organize your trip correctly, you may reduce the likelihood of anything going wrong and be prepared for it in the event that it does.
In fact, I suggest you read my fastpacking planning guide.
Water availability is usually more abundant in the winter, which is a plus despite the dangers of using frozen sources. If you have yet to purchase a water purifier or water tablets, you really need to get caught up to speed with these suggestions.
Tents & Shelters
Due to the increased weather hazards and the consequent requirement for increased protection, a winter tent will be bulkier and more durable.
I use a one-person tent or a bivvy in the summer. However, in the winter, I use a two-person tent.
This is because you spend more time in your tent in the winter and have more gear with you, and it is a nightmare trying to get changed in the rain in a one-person tent. 
A four-season tent is required unless you can guarantee that the weather will be mild for your whole winter adventure. Assuming the latter, your 3-season tent might do.
The heavier fabrics, stronger poles, and less netting make it tough to shop for a light 4-season tent.
The available funds are also a significant consideration because all ultralight tents are expensive, but 4 season ones are even more expensive.
A tunnel tent is a superb option since it can endure high winds and rain if correctly pitched.
Another option is to look for a well-insulated, all-season tent with a full nylon inside that is designed to withstand severe winds, and the weight of snow will help you keep your heat in and the cold out.
I go way deeper on the subject of tents here in this article and drop my top 6 brands and why.
Sleeping bag & Systems
After the tent, the sleeping bag will be the largest and heaviest thing you bring. 
It would help if you had a sleeping bag with a comfortable rating for the predicted night temperature. 
However, as I am an experienced fastpacker, I only take sleeping bags where the limit rating matches the weather. I put on more layers to get greater warmth from the sleeping bags.
The average sleeping bag that people take fastpacking is far warmer than necessary. So, basically, I wear all the clothes I take for when the running part of my day has ended. 
Layering is the key to regulating your body temperature in a sleeping bag, and it's also a terrific way to save weight without compromising warmth or comfort.
I use two sleeping bags: Therm-a-Rest Vesper 32F/0C Backpacking Quilt & Marmot Micron 40.
I also always bring an ultralight pillow, which I go into great detail about here with my top five picks.
Sleeping mat
Insulation is a must between your tent floor and sleeping bag throughout the winter. Do not be mistaken; a sleeping mat is as vital as a sleeping bag.
You can always count on a chilly, restless night if you do not have the right sleeping mat. Weight isn't the only consideration; heat retention is crucial. 
When a person is inside a sleeping bag, their weight causes the bag to flatten, which decreases the sleeping bag's ability to insulate you. When underground cold rises to the surface, the effects can be devastating.
Check the "R" rating of the sleeping mat. Materials with higher R values are more effective at insulating you from the floor. If you want to pitch a tent on snow or ice, you'll need an R of at least 3, preferably four or higher.
In colder weather, I resort to the Sea to Summit Ether Lite Insulated.
Running Clothing
Running isn't too tricky in the cold, but stopping could be a problem. Since fastpacking involves many more stops than jogging, it's easy to fool yourself into thinking that your regular gear is plenty.
There will be breaks in the fastpack to eat, prepare food, cook, set up camp, and navigate.
Since body heat can be lost rapidly in the cold, it's essential to remember the adage that staying warm is easier than trying to get warmer.
As for outerwear, a down coat and a different raincoat are also required. If you're only stopping for a quick lunch or break, the lightweight waterproof is perfect as a windbreaker. 
You can add extra warmth during extended breaks by layering a waterproof jacket over the down one.
A wool cap is a must-have accessory for me. I cannot stress this importance when taking a break or winding down for the night.
Other Items to consider: Gaters, Snow Shoes, Gloves, and everything you would normally use in winter conditions.
One other important item is a good set of shoes. The good news is I dedicated a whole article to the topic and shared some of the shoes I use.
General tips
While setting up your tent, stomp down the snow to create a level surface for your camp. Even though you'll want to set up camp and crawl into your bag as soon as possible, preparation is key to a good night's sleep.
I talk more about camping and preparation in 8 Fastpacking Camping Tips.
Wearing gloves when setting up camp is a good idea because it can take a while for your hands to warm up after standing in wet clothing.
Before turning in for the night, a hot dinner and a steaming beverage can do wonders for your mood and energy levels. Core body temperature can be maintained with the use of both heat and calories.
Melting snow for drinking or food prep takes more gas and time than you would think. Adding a little water to the snow reduces the time and saves you gas, meaning you can take smaller canisters. 
To keep your water from freezing, tuck it into the foot of your sleeping bag. It's essential to make sure the lid is completely closed.
Get toasty; you won't get much sleep if you're cold. You can improve your blood circulation by doing push-ups and jumping jacks. Keeping warm in a sleeping bag is much easier than warming up in one.
I know this all sounds like a lot, and it is. Preparation and good gear are essential, so I created this kit and fastpack gear list, which should be mandatory reading: The Ultimate Fastpacking Kit List.
Conclusion
If this is your first time fastpacking, you should wait to do it in the summer or in warmer weather.
Fastpacking in the winter can be intimidating, but if you have done it before in the summer and live in an area with mild winters, you should be good to go.
In the summer, finding a suitable location for wild camping near where I live can be challenging, and the trails nearby might get crowded.
I've always found winter to be the best time to go hiking because there are fewer people, and you can see more of the landscape when the trees are bare. So, when I first started fast-packing, I set out to be able to do it even in the dead of winter.
You need only determine which kit may be used year-round without modification and which must be adapted for use in different climates.
For those who worry about the added bulk their winter gear will bring or who despise the thought of sleeping outside in the chill, you can always forgo tent camping in favor of more conventional accommodation, such as a motel, inn, B&B, or hostel near your trail. 
You can lighten your load by eliminating the requirement for a tent and sleeping mat. Some places you stay at may still require a sleeping bag.